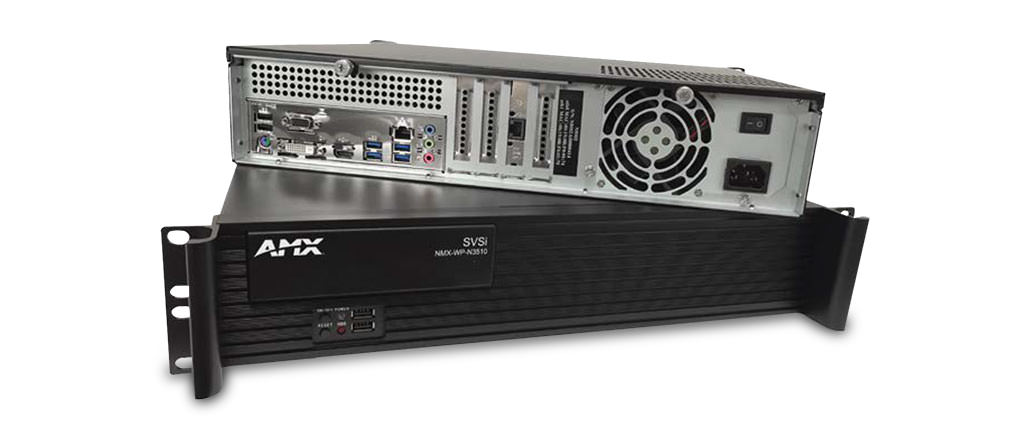 Suggested Applications
Network Operations Centre
Any Window – Anywhere
If you have a number of video feeds being distributed across your network, you may come across situations where you require the combination of multiple video feeds into one video source. There are a number of examples of this requirement; from control rooms monitoring multiple CCTV feeds to visual displays for events, concerts and public spaces.
Whatever your windowing processing requirement, AMX SVSI solutions have you covered. When used in conjunction with the N2000 or N3000 series encoder and decoders the windowing processor allows multiple inputs to be combined in pre-set or user-defined configurations. Once configured, the 'combined' stream can then be transmitted to one or all of the decoders on the network.
Take a look below at the SVSI windowing processor options to find the best solution for your requirements. If you need to discuss your project in more detail, please get in touch using one of the contact methods on this page.
AMX SVSI Windowing Processors
N2000-Series Windowing Processor
The NMX-WP-N2510 windowing processor occupies just 1 rack unit of space. Compatible with the N2000 product suite of encoders and decoders it is capable of handling multiple HD streams over a single network connection. Unlike traditional methods of having a processor for each output, the NMW-WP-N2150 is a network appliance enabling any output on the network to display the tiled image. In a standard configuration, the processor acts as a 3+1 (quad) unit however units can be stacked to give 7×1, 10×1 13×1 or higher capacity.
NMX-WP-N2510
Functions with the N-Series family of products and is capable of handling multiple real-time streams using only a single network port. Accepts up to four independent video streams in addition to user-defined static backgrounds.
N3000-Series Windowing Processor
For instances where the N3000 encoders and decoders have been installed, the NMX-WP-N3150 multi-channel windowing processor will provide multiple images in one stream across the network. Image configurations can be manipulated through the inbuilt, feature rich web interface; allowing you to crop, scale and position them as you see fit.
Whether using the pre-set or user-defined layouts, the image configurations can be changed on the fly; not only switching image layouts but also changing the displayed streams. Furthermore, the SVSI NMX-WP-N3510 can be stacked to window more than nine H.264 streams in a single display.
NMX-WP-N3510
Functions with the N3000 series of video over IP products and is capable of handling multiple real-time H.264 streams. Images can be adjusted dynamically through an easy-to-use web interface. Tools such as 'snap & grid' are available to help align window edges with a variety of presets making it easy to change image configurations.