Crestron Mercury is the solution for meeting collaboration & conferencing
Crestron Mercury is a complete, flexible and powerful table-top solution, combining an array of features which enable people to work together and share content regardless of location or conferencing service. If you would like to learn more about the Crestron Mercury features please read on, or alternatively get in touch with our team who would be happy to discuss your requirements.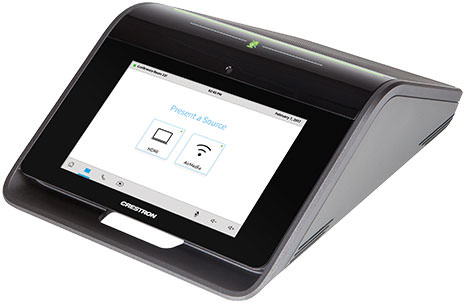 Features and Specifications
Present wirelessly from your laptop, PC or smartphone
To ensure different applications and budgets can be accommodated, Crestron offer two models of Mercury. The base package (CCS-UC-1 W/PS KIT) offers full SIP VoIP speakerphone, Bluetooth, and USB audio capabilities. The video package (CCS-UC-1-AV W/PS KIT) adds multimedia presentation and video conferencing functionality and includes a USB camera.
Flexibility
Mercury's design is not only aesthetically pleasing and unobtrusive, it's unique sloped shape allows for placement at the centre or either end of the table. Optional microphone pods can be added for large or long tables to ensure every seat enjoys perfect audio pickup.
HD Colour Touch Screen
Users can interact with Mercury via its 7", high definition, full colour touch screen. This well designed, easy to use interface provides access to all available functions; whether that is answering a call, looking up contacts, presenting or managing the room schedule.
Crestron PinPoint App
Further enhance your meeting experience with the Crestron PinPoint App. Locate and reserve any available Mercury-equipped room in your offices. Instantly start your presentation as you enter the room thanks to Mercury's inbuilt PinPoint beacon; detecting your presence and providing connection options from your smartphone.
Video Conferencing and Web Collaboration
Have you ever had to huddle around a laptop to view a presentation, or been sat right next to a colleague on a GoToMeeting, WebEx,