Crestron Mercury is the solution for meeting collaboration & conferencing
Crestron Mercury is a complete, flexible and powerful table-top solution, combining an array of features which enable people to work together and share content regardless of location or conferencing service. If you would like to learn more about the Crestron Mercury features please read on, or alternatively get in touch with our team who would be happy to discuss your requirements.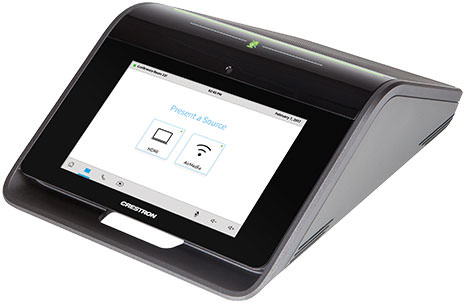 Features and Specifications
Present wirelessly from your laptop, PC or smartphone
To ensure different applications and budgets can be accommodated, Crestron offer two models of Mercury. The base package (CCS-UC-1 W/PS KIT) offers full SIP VoIP speakerphone, Bluetooth, and USB audio capabilities. The video package (CCS-UC-1-AV W/PS KIT) adds multimedia presentation and video conferencing functionality and includes a USB camera.
Flexibility
Mercury's design is not only aesthetically pleasing and unobtrusive, it's unique sloped shape allows for placement at the centre or either end of the table. Optional microphone pods can be added for large or long tables to ensure every seat enjoys perfect audio pickup.
HD Colour Touch Screen
Users can interact with Mercury via its 7", high definition, full colour touch screen. This well designed, easy to use interface provides access to all available functions; whether that is answering a call, looking up contacts, presenting or managing the room schedule.
Crestron PinPoint App
Further enhance your meeting experience with the Crestron PinPoint App. Locate and reserve any available Mercury-equipped room in your offices. Instantly start your presentation as you enter the room thanks to Mercury's inbuilt PinPoint beacon; detecting your presence and providing connection options from your smartphone.
Video Conferencing and Web Collaboration
Have you ever had to huddle around a laptop to view a presentation, or been sat right next to a colleague on a GoToMeeting, WebEx, Skype or any personal conferencing platform? With Crestron Mercury, these situations are no longer a problem:
Turn any area into a videoconference room by connecting your laptop to Mercury and running your chosen video conferencing application.

Once connected, enjoy enhanced audio and a high definition view of the room via the included USB camera.

Connect your laptop to the HDMI input on Mercury and ensure everyone in the room can view the presentation and videoconference comfortably.
BYOD Multimedia Presentation
Mercury comes equipped with a HDMI output to provide connectivity to a display device; enabling presentations from a whole host of BYOD sources.

A built in AirMedia gateway allows wireless presentation from Wi-Fi connected devices such as laptops, smart phone and tablets.

Mercury's HDMI input enables any AV source to be connected to present full-motion 1080p60 video on the local display with high-fidelity audio played through Mercury's powerful inbuilt speaker system
Sound Quality
With 360-degree quad microphones, conversation can be captured from every seat around the table. There is no compromise on audio quality with Mercury's high-powered, full-range speaker system, producing clear, crisp audio for both voice and program material. Furthermore, TrueVoice AEC technology from Limes Audio delivers full-duplex performance without echo or noise. These elements along with Mercury's advanced design aid natural and fluid meeting experiences.
Workplace Integration
Direct integration with Microsoft Exchange or Crestron Fusion enables room scheduling and automation for all Mercury-equipped rooms. Customise your on-screen confirmation to welcome meeting attendees and ensure you meeting never overruns with gentle reminders of meeting time remaining and the ability to extend or reschedule your meetings.
Management and Security
As an enterprise-grade appliance, Mercury is perfect for mass deployment in any sized facility. With cloud-based provisioning you can configure your network ahead of hardware delivery, with automatic updates following installation. Devices can be configured individually or via a web browser.
Advanced security features include 802.1x authentication, Active Directory credential management, LDAP directory management, SRTP, SSH, TLS, and HTTPS. Dual LAN ports allow VoIP or AirMedia traffic to be isolated on a secondary network, and 802.3at PoE+ compatibility enables Mercury to be powered through its primary LAN connection.
Voice Calling & Audio Conferencing
A fully featured VoIP, SIP-compliant speakerphone with 360-degree quad microphone array and full range speakers for a superb audio experience.

Corporate directory access (LDAP) integration provides one-touch dialling from your centrally managed directory.

Bluetooth enabled phones appear automatically on the touch screen and once paired, Mercury turns your device into a room conference system with the ability to start and stop calls, adjust volume and mute the call from the high definition 7" touch screen.

Run softphone applications from your laptop on Mercury. To take full advantage of the echo-free high quality audio, simply connect your laptop to the USB port.

Privacy is in important feature in conferences and muting the call with Mercury is simple. Tap the top bar of the unit and the extra-bright, bi-colour indicator ensures the mute status is clearly identifiable.
Crestron Mercury Models
To accommodate different applications and budgets, Crestron have provided two versions of Mercury. For more information on these models please see the table below or contact our team who would be happy to discuss your requirements.
| | CCS-UC-1 W/PS KIT | CCS-UC-1-AV W/PS KIT |
| --- | --- | --- |
| Base unit with speakerphone & audio conferencing capabilities via SIP, Bluetooth, & USB | | |
| Web video conferencing capabilities via USB & HDMI | | |
| Video presentation capabilities via AirMedia & HDMI | | |
| HD Camera | | |
| USB extension cable for camera, Type A male-to-female | | |
| USB cable for laptop computer, Type A male to micro-B male | | |
| HDMI cable for presentation content source, Type A male-to-male | | |
| HDMI cable for display device, Type A male-to-male | | |
| Ethernet LAN cable, RJ45 male-to-male | | |
| IR emitter for display device | | |
| Cable retention plate & tie wraps | | |
| Universal power pack | ** | ** |
| Price | POA | POA |
*As a Crestron Elite Partner, Cinos can offer the most attractive price points on Crestron products.
**When used without any microphone pods connected, the system may be powered using either PoE+ or the included power pack (model PW-2420RU). If one or two mic pods are connected, the system MUST be powered using the power pack. PoE+ cannot be used to power the system if any mic pods are connected. When using PoE+, make sure the network switch supports PoE+ (802.3at Type 2). Regular PoE (802.3af or 802.3at Type 1) cannot be used to power the system. Crestron recommends using the CEN-SWPOE-16 16-port switch, which supports PoE+. Please be aware, the CEN-SW-POE-5 5-port switch does NOT support PoE+ and cannot be used to power the system.