CSE-800 – Wireless presentation and collaboration system for boardrooms and conference rooms
Designed to bring wireless presentation into boardrooms, high-end meeting rooms and conference rooms, the CSE-800 is the most powerful system in the ClickShare family today.
The CSE-800 comes with some exciting new features including the simultaneous sharing of up to 8 people, moderation functionality and black boarding & annotation. Furthermore, with two HDMI inputs and outputs you can enjoy 4K quality presentations on 2 screens, driven by a single base unit.
Price on Application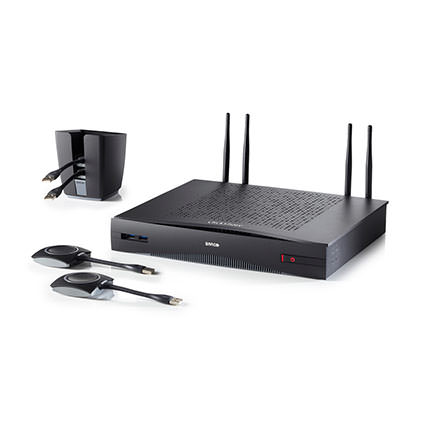 Please note: The ClickShare CSE-800 will be available towards the end of August 2017. If you would like to pre-order a unit please get in touch using one of the contact methods on this page.

Button
Connect the Button to the USB-port of your PC or MAC, push the button, and share!

Extended Desktop
Show different content on the central screen and on your laptop using Extended Desktop

Mobile
iPad, iPhone or Android users can share by using the ClickShare app