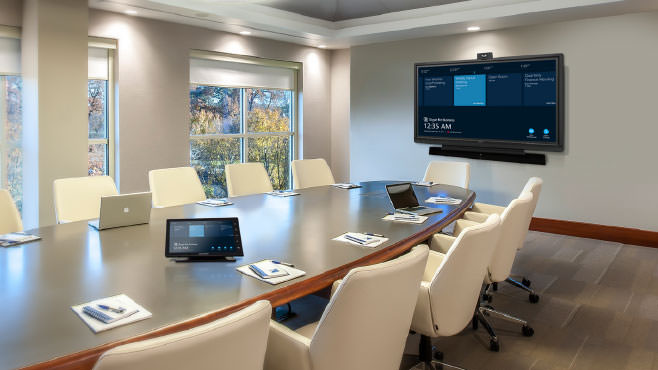 Meeting room integration with Skype for Business. Enhance your collaborative capabilities.
Today, meeting rooms and conferencing facilities are used for large teams of partners, clients and vendors to collaborate on a whole host of matters. With these facilities in constant use, utilising the best collaboration technologies is imperative in ensuring teams can work well and not be hampered by technology challenges.
With so many technology options available for conferencing facilities, making the right decision can sometimes be overwhelming. You need to consider whether you need different products for different requirements and the costs involved, or if one, fully-featured solution meets all of your needs.
For meeting rooms and conferencing facilities the Crestron RL 2 wall mount system package (CCS-UC-200-WMT KIT) meets all of your needs; transforming your room into a collaborative meeting space. Enjoy true Skype for Business group collaboration on up to 70" dual interactive displays. Connect with remote participants on their laptop or smartphone, other Crestron RL 2 enabled rooms and turn the display into an interactive whiteboard to sketch out ideas, together, in real time.
As a Crestron Certified Partner, Cinos are perfectly placed to deliver the RL 2 huddle room system package into your organisation. For more information about the CCS-UC-200-WMT KIT please see the features below, or alternatively get in touch with our team who would be happy to help.
Crestron RL 2 CCS-UC-200-WMT KIT Features
Single or Dual Display
Rooms of various types and sizes are supported, allowing the use of one or two high-definition displays. USB HID touch overlay support enables annotation and other interactive presentation capabilities right on the main display(s) at the front of the room.
Tabletop Touch Screen Console
The included 10" touch screen console provides an intuitive user interface for managing group collaboration sessions. It's so simple to use, anyone can instantly start a session with just one touch. The touch screen console can also be custom programmed to control room lighting, shades, climate, and AV equipment.
USB HD Camera
The included camera provides remote participants with a high-definition view of the room through an extra-wide 90 degree diagonal field of view. Crestron RL 2 is also compatible with a range of Crestron and Crestron-approved third-party camera options.
Microphone Options
The CCS-UC-200-WMT package comes with a high-performance, low-profile USB table microphone that's capable of achieving excellent pickup of several participants at a table in a typical room. Alternately, up to two analog microphones (not included) may be connected. Microphone input capability can be expanded using a simple mic mixer (Crestron model MMX-6-USB) or an advanced Crestron Avia Digital Signal Processor. A full assortment of Crestron and Crestron-approved third-party microphone accessories is available.
Auto-Switching "Content" Inputs
The HDMI, VGA, and DM 8G+ inputs allow versatile connectivity for computers and other content source devices. Automatic switching between sources simplifies operation.
DigitalMedia System Integration
The DM 8G+ input facilitates input expansion and signal extension using any Crestron DM 8G+ transmitter or switcher. An assortment of under-table or in-wall transmitters and switchers is offered to provide input connectivity for content sources wherever it's needed. DM 8G+ also allows for connection to a centralised DM switcher, enabling access to shared media sources and cameras anywhere in the building.
Content Audio Support
In addition to video, Crestron RL 2 accepts audio input signals via its HDMI, analog audio, and DM 8G+ inputs. When integrated with an Avia Digital Signal Processor (DSP), all content audio signals can be routed through the DSP along with microphone signals.
Audio Output
The stereo analog output ordinarily feeds the included sound bar, or may be used to feed a separate sound system. Alternately, audio may be routed via USB to an Avia DSP.
Control System Integration
Complete control over room lighting, shades, AV, and other equipment can be enabled right on the tabletop touch screen console through integration with a Crestron control system.
Enterprise Monitoring
Crestron RL 2 has the ability to communicate directly with the Crestron Fusion Cloud Enterprise Management Service, allowing it to be monitored from a centralized help desk alongside every other huddle room across the enterprise. Room scheduling and other advanced capabilities can be enabled through integration with a control system.
Crestron RL 2 packages and pricing
RL 2 CCS-UC-200 KIT
RL 2 CCS-UC-200-HUD KIT
RL 2 CCS-UC-200-WMT KIT
Description
Crestron RL 2 Group Collaboration System for Skype for Business, Intergrator Kit
Crestron RL 2 Group Collaboration System for Skype for Business, Huddle Room (Display not included)
Learn More
Crestron RL 2 Group Collaboration System for Skype for Business, Wall Mount, Single, No Display
Price
POA*
POA*
POA*
*As a Crestron Elite Partner, Cinos can offer the most attractive price points on Crestron products.
Crestron Case Studies
Introduction
rg+p formed in 1979 […]
Introduction As a leading manufacturer with […]