LG Electronics is a global leader and technology innovator in consumer electronics, mobile communications and home appliances. Established in 1958, LG now employs over 77,000 people in 125 locations around the world. LG's extensive product portfolio includes home entertainment TVs and commercial displays, mobile devices, white goods and a range of innovate digital signage solutions.
Partnering with LG gives Cinos access to a comprehensive range of commercial LED display solutions. Each display utilises LG's IPS technology which deliver a whole host of advantages such as high picture quality, 24/7 use, wide viewing angles, superior durability and Smart Energy Saving. Add to this a broad range of screen sizes and types, LG have a display solution for almost any application.
When it comes to video walls, the award winning VH7B series delivers a seamless viewing experience on assembled video walls screens. The mere 0.9mm bezel offers maximum immersion for video wall applications; perfect for catching a customer's attention in areas of large footfall such as museums, galleries and large retail stores.
When a video wall is not a suitable option, the Ultra Stretch 86BH5C is a new signage format with a 58:9 widescreen. With the option to mount in landscape or portrait and the ability to display up to four pieces of dynamic content simultaneously, the Ultra Stretch display is ideal for environments such as airports, subways, banks or retail stores.
As an LG partner, Cinos have the expertise to advise on the best solution for your organisation. If are considering LG for meeting room displays, digital signage or video wall solutions please get in touch, our team would be happy to discuss your requirements.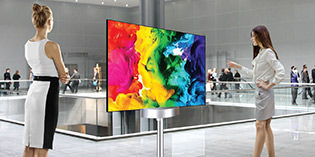 LG Case Studies
Introduction
rg+p formed in 1979 […]
In 2012 our client announced the construction of its new, advanced, multi-million pound manufacturing facility in the United Kingdom United Kingdom […]
Tomy are a leading toy manufacturer with offices and distribution sites spread across Europe, Asia and America. In 2006 Tomy merged with a key competitor [...]