Over a decade ago, Crestron laid the foundation for Digital Media (DM), an AV distribution technology that has transformed the industry. Today, DM integrates all digital and analogue signals together with streaming in one platform, ensuring organisations can send video across their estates regardless of the network infrastructure or AV technologies in place.
Crestron already have a range of DM solutions on the market. The latest edition to the family, the DM NVX Series, has taken the industry by storm by delivering a truly unmatched networked AV solution. DM NVX offers a level of device capacity and flexibility that has never been seen before; bringing about a revolution in the design and implementation of commercial AV systems.
The Crestron DM NVX Difference
It has been well documented that networked AV is a much more cost effective option than traditional matrix switches. The need for specialist cabling and limitations on the number of inputs and outputs are some of the reasons organisations are moving towards video over IP solutions. But with a range of options out there how do you know what the best video over IP solution is?
Simple. It's Crestron DM NVX!
DM NVX is the only secure network AV solution. It is infinitely scalable and delivers the best image quality with no latency across a standard 1 Gigabyte network. Developed in the Crestron DigitalMedia Lab, DM NVX represents the gold standard for network AV. And it is no surprise. Crestron having more people performing testing and quality assurance than other companies have in their entire engineering team! Check out the key features below to learn more.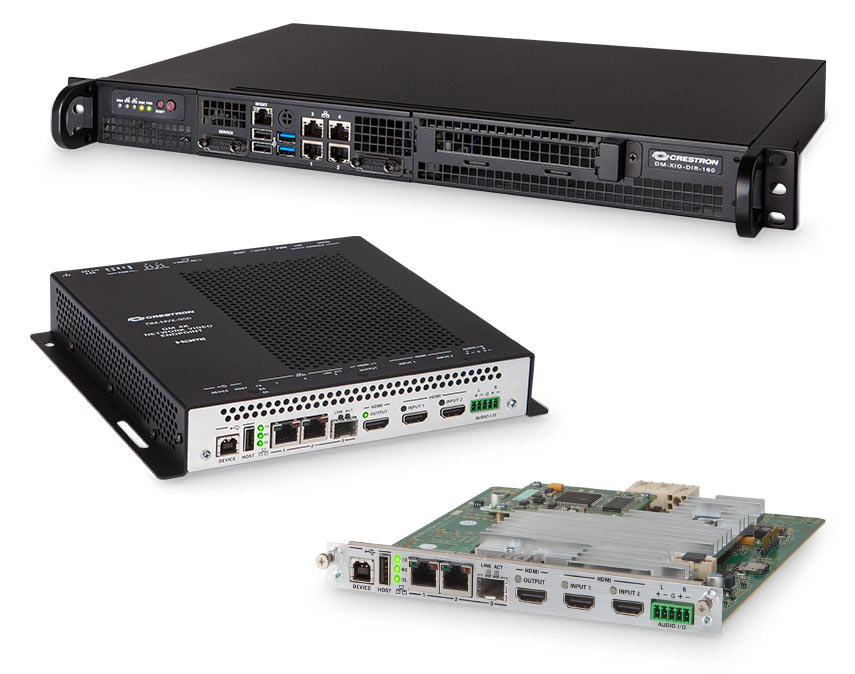 Crestron DM NVX Key Features
Designed for the most demanding conference room and classroom applications, DM NVX delivers real-time, full-motion 4K60 video performance for presentations, video conferencing and live camera images. Furthermore, DM NVX is the only secure solution to deliver 4K60, 4:4:4, and HDR video over a standard 1Gb network with no latency; ideal for enterprise-wide 4K content distribution.
Crestron understand that anything that goes on the network must be secure. DM NVX sets the standard for secure AV networks by leveraging the most advanced network security technologies. Employing features and protocols like 802.1x authentication, Active Directory credential management, PKI certification, AES encryption, TLS, SSH,