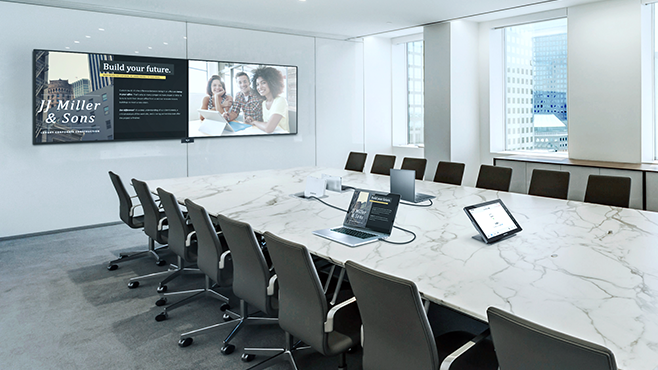 Over a decade ago, Crestron laid the foundation for Digital Media (DM), an AV distribution technology that has transformed the industry. Today, DM integrates all digital and analogue signals together with streaming in one platform, ensuring organisations can send video across their estates regardless of the network infrastructure or AV technologies in place.
Crestron already have a range of DM solutions on the market. The latest edition to the family, the DM NVX Series, has taken the industry by storm by delivering a truly unmatched networked AV solution. DM NVX offers a level of device capacity and flexibility that has never been seen before; bringing about a revolution in the design and implementation of commercial AV systems.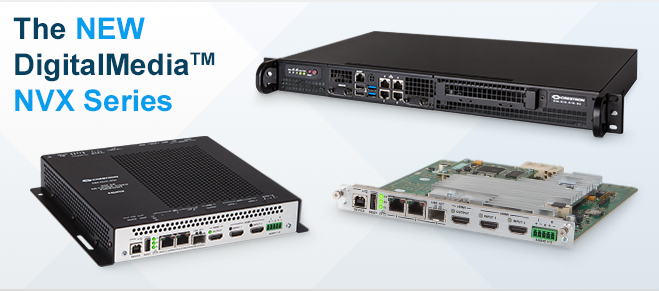 The Crestron DM NVX Difference
It has been well documented that networked AV is a much more cost effective option than traditional matrix switches. The need for specialist cabling and limitations on the number of inputs and outputs are some of the reasons organisations are moving towards video over IP solutions. But with a range of options out there how do you know what the best video over IP solution is?
Simple. It's Crestron DM NVX!
DM NVX is the only secure network AV solution. It is infinitely scalable and delivers the best image quality with no latency across a standard 1 Gigabyte network. Developed in the Crestron DigitalMedia Lab, DM NVX represents the gold standard for network AV. And it is no surprise. Crestron having more people performing testing and quality assurance than other companies have in their entire engineering team! Check out the key features below to learn more.
Crestron DM NVX Key Features

Best image quality
Designed for the most demanding conference room and classroom applications, DM NVX delivers real-time, full-motion 4K60 video performance for presentations, video conferencing and live camera images. Furthermore, DM NVX is the only secure solution to deliver 4K60, 4:4:4, and HDR video over a standard 1Gb network with no latency; ideal for enterprise-wide 4K content distribution.

Network security
Crestron understand that anything that goes on the network must be secure. DM NVX sets the standard for secure AV networks by leveraging the most advanced network security technologies. Employing features and protocols like 802.1x authentication, Active Directory credential management, PKI certification, AES encryption, TLS, SSH, and HTTPS, DM NVX is a truly secure, enterprise-grade network AV solution for any organisation.
Learn more here

No latency
DM NVX is the only network AV solution which ensures no latency. Patent pending technology from Crestron simultaneously encodes/decodes and scales, eliminating any latency incurred in transmitting video over the network.

Infinitely scalable
With an infinitely scalable software based matrix all you need are DM NVX encoders/decoders to deliver content across your network. From a simple point-to-point set up to thousands of endpoints, there are no limitations with DM NVX.

All-in-one encoder/decoder
The versatility of DM NVX is clear as each compact unit can operate as either an encoder or decoder. The mode can be switched on the fly via a Crestron control system or the XiO Director, enabling organisations to modify their network structure without expensive hardware changes.

Ease of control
Control your DM NVX network with ease via the Crestron DM XiO Director. This enterprise-grade network appliance acts as a centralised virtual switcher and makes it incredibly simple to manage large matrices of DM NVX endpoints over a standard IP network.

1Gb network
Unlike most networked AV solutions, DM NVX delivers 4K60, 4:4:4, and HDR over standard 1Gb Ethernet. This eliminates the need for expensive custom 10Gb infrastructures so often required for network AV products.

Cost effective
Utilising your existing network to deliver video over IP eliminates the need traditional, matrix switching solutions which require expensive cabling and have limitations of the number of inputs and outputs. Furthermore, DM NVX delivers ultra-high definition video over a standard 1Gb Ethernet, eliminating the need for expensive, custom 10Gb infrastructures.
As a Crestron Authorised Partner, Cinos are perfectly placed to deliver DM NVX into your organisation. Whether you are looking at a simple point-to-point solution or a more sophisticated networked AV setup our team can help. Please see below for more information on the various products within DM NVX or alternatively get in touch with our team who would be happy to help