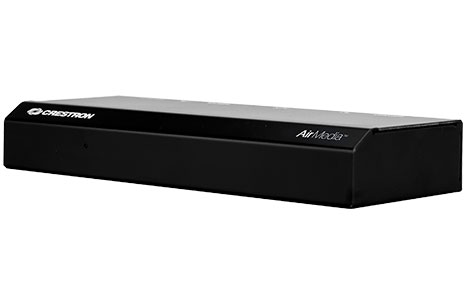 Present HD content wirelessly with Crestron AirMedia, using laptops and mobile device.
Today, the ability to easily share content in meetings is becoming a standard expectation. Even with a range of different devices in a meeting, people expect to be able to share their content without technology frustrations. With Crestron AirMedia this is all possible and it couldn't be easier.
Crestron's AirMedia solution enables anyone to walk into a room and share content wirelessly from their laptop, PC, smartphone or tablet. Whether you are sharing content from PowerPoint, Excel, Word or sharing PDF documents and photos, AirMedia makes presenting and collaborating on content from a range of devices, simple, fast and effective.
To learn more about Crestron AirMedia check out the features below. Alternatively, please get in touch with our team. As a Crestron Certified partner, we have the experience and expertise to advise on the best solution based on your specific requirements.
Crestron Case Studies
Introduction
rg+p formed in 1979 […]
Introduction As a leading manufacturer with […]