Great things happen when people

click.
Barco ClickShare Conference
Feature Comparison & Pricing
| | CX-20 | CX-30 | CX-50 |
| --- | --- | --- | --- |
| Price | £1,665 | £2,085 | £2,510 |
| ClickShare Buttons included | 1 | 2 | 2 |
| ClickShare Collaboration App | Yes | Yes | Yes |
| Enhanced presence detection for the ClickShare App | Desktop and Mobile | Desktop and Mobile | Desktop and Mobile |
| Full BYOD support | Yes | Yes | Yes |
| | CX-20 | CX-30 | CX-50 |
| --- | --- | --- | --- |
| Price | £1,665 | £2,085 | £2,510 |
| ClickShare Buttons included | 1 | 2 | 2 |
Today, with the emergence of dispersed teams and a rapidly increasing remote workforce, video conferencing is becoming the core of the meeting experience.
| | |
| --- | --- |
| | In their 'Future of Meetings Whitepaper' Barco surveyed over 1,500 white-collar professionals. 77% state that video will be standard in meetings within the next three years. Even in huddle spaces audio conferencing is no longer an acceptable option with 88% preferring to use video. |
Simply put, the future of meetings is video. Whilst this opens new possibilities for working more effectively and productively, it is not without its challenges. Video better engages the remote workforce, however if it is not set up correctly and remote workers cannot see or hear everyone in the room it can have the opposite effect, leaving the remote worker disengaged and negatively impacting productivity.
And then there is the abundance of video platforms which organisations need to cater for in their digital workplace strategy. Do they let employees use the tools they prefer, or standardise on a specific conferencing solution?
With ClickShare Conference, these considerations are a thing of the past.
ClickShare Conference is revolutionizing the meeting room experience by bringing wireless conferencing and wireless collaboration to any size space. It enables you to work with the conferencing tools you prefer, from your laptop, whilst automatically connecting to the meeting room cameras, soundbar and other USB peripherals for a better and more immersive conferencing and collaboration experience.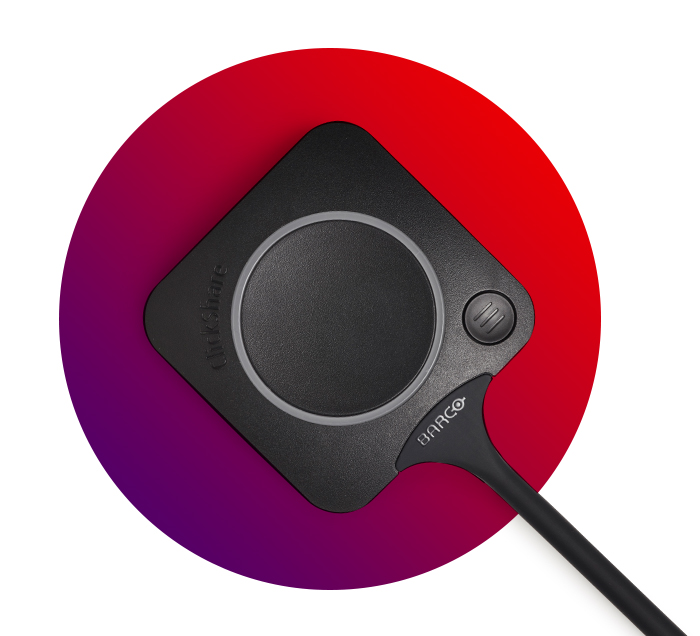 Bring Your Own Meeting with ClickShare Conference
In their research, Barco found in the past six months respondents have each used on average six different conferencing solutions. There are plenty out there – MS Teams/Skype, Cisco Webex, Zoom and Slack to name a few. We are in an age when even as organisations try to standardise on one conferencing solution, employees will have to use others to connect with partners and customers. It means that meeting room equipment doesn't get used and employees host a call huddled around their laptop.
ClickShare Conference enables you to Bring Your Own Meeting (BYOM) and work with the conferencing tools you prefer; the ones that make you most productive
The screens, microphone, speakers and cameras become part of your laptop and in doing so enable you to share content and collaborate with a wider range of media and functionality.
And what's more, with ClickShare Conference you can begin your meeting in 7 seconds! No more wasted time setting up the meeting room. Simply walk into the meeting room, connect and great things really do happen when you click.
Benefits of Barco ClickShare Conference