Cinos are delighted to have attended the Business Breakthrough Event hosted at The Brewery; a historic eighteenth-century venue in the heart of London. The event provided a unique opportunity to understand the latest developments in the video communications and UC markets, both from an end user and a systems integration perspective.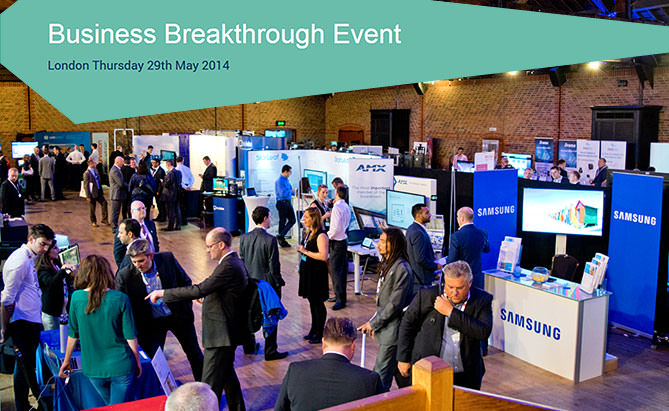 In addition to seeing a range of exciting new technologies in the exhibition hall, the event hosted a variety of seminars; bringing together industry leaders to explore how conferencing and collaboration solutions are changing the future of the enterprise market.
The exhibition hall was the hub of the event, allowing us to engage with new and existing partners; learning how their latest product developments will improve the capabilities and efficiency of our clients' technology estates.
With so much technology on show, we can't mention everything but some of the highlights include:
We knew 2014 was going to be an exciting year for Cinos, and the Business Breakthrough event did nothing but confirm this. After lots of stimulating conversations with our partners we are looking forward to expanding our technology offering and capabilities. With 4k screens, customisable control systems, Microsoft Lync integrations and enhanced audio solutions, 2014 is looking like a revolutionary year in the communications and collaboration marketplace.
We would like to congratulate Wainhouse Research and Imago Group Plc on putting on such a fantastic event. Hosted at a superb venue the event was well organised and perfectly suited for anyone working in the video communications and UC arena.