This month a team from Cinos visited InfoComm 2016, one of the most notable trade shows in the audio visual industry. The show was spread across three days at the Las Vegas Convention Centre where there were more than 1,000 exhibitors, thousands of products, and nearly 40,000 attendees from 110+ countries.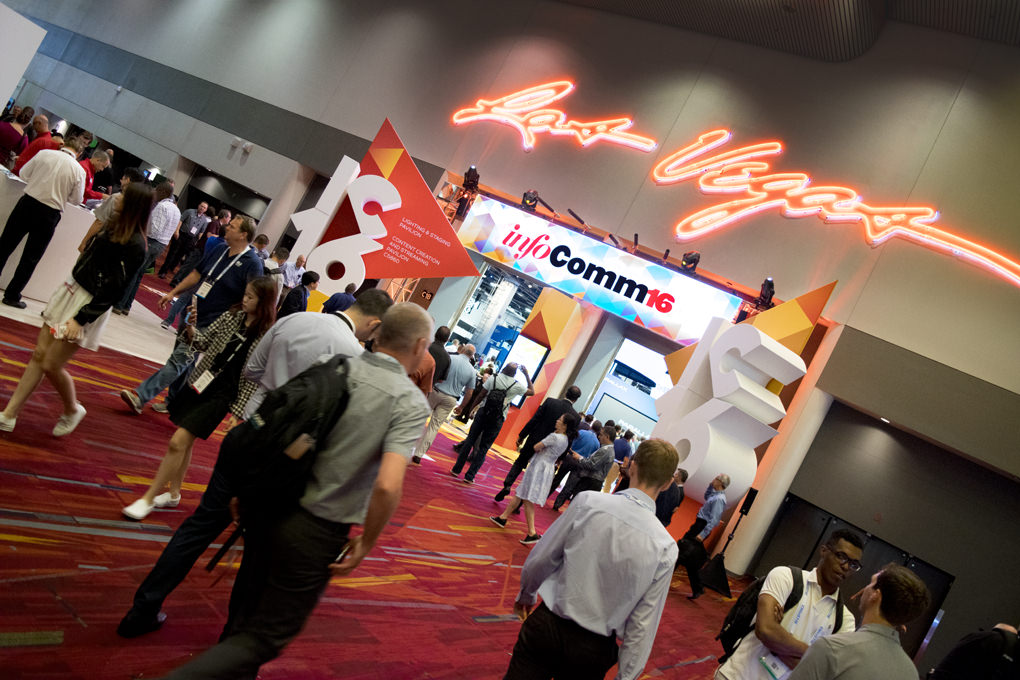 On our first day, one of the most impressive solutions we saw in the Unified Communications & Collaboration Pavilion was 'Mezzanine' from Oblong Industries. This truly dynamic collaboration platform is characterised by its fluid interface that spans multiple screen surfaces, combined with a ground-breaking gestural interface that allows full user control. The latest enhancement, dubbed 'Mezz-In', was announced at InfoComm and enables collaboration for remote participants by integrating videoconferencing into the Mezzanine web client.
Sticking with the collaboration theme, Cyviz used InfoComm to launch 'Cyviz Easy', an elegant, configurable control and management platform designed to support the complete portfolio of room types. Cyviz Easy is fully standardised and upgradable like any other software solution; reducing installation and support costs whilst enhancing the business value and familiarity of collaboration rooms. With new features such as the ability to pinch and zoom within PiPs and web browser based content sharing, Cyviz Easy is a solution we look forward to sharing with our customers and partners.
We would like to extend our congratulations to Barco, whose ClickShare product range won the 'Best Collaborative Product' award for the third year in a row. Barco also used InfoComm to launch another award-winning product, their Flagship laser series for 24/7 control rooms. The Flagship series offers RGB laser projection cubes to create large video walls; delivering laser brightness levels and vibrant colours. With an estimated lifetime of over 11 years in 24/7 operation, the Flagship series is a solution we will certainly consider for our clients' command and control requirements.
It was easy to get distracted as we walked around the Convention Centre with so much eye-catching technology on show. Nothing epitomised this more than the stunning 8K LED video wall on the Leyard stand. The wall measured more than 9.5m wide by 5.5m tall and was composed of 64 Leyard TWA1.2 LED video wall displays boasting a 1.2mm pixel pitch.
Laser-based projectors were a central theme at InfoComm and we were interested to see the latest developments from NEC. The flagship model for the PX Series, the PX803UL is ideal for large venues, as well as museums, large corporates and signage applications. This 8,000 ANSI lumen Solid State Light source projector offers 4K resolution and up to 20,000 hours maintenance free operation. For smaller environments the new PA Series delivers the best in picture quality and offers up to 76.4m in projection distance.
Away from projection, we look forward to the arrival of NEC's first OLED display in 2017. The display will initially be available in 55" boasting a 1920×1080 resolution, a brightness of 400 cd/m2 – nits and will no doubt be used for a range of retail and commercial applications.
Whilst the range of display technology was indeed impressive, the ability to manage this content effectively is of the upmost importance; whether that is from a command and control or digital signage perspective.
To that end we stopped to meet with VuWall who were demonstrating VuWall2; a powerful software solution for the operation of large screen systems and multi-monitor systems. VuWall2 removes the complexities of video wall management through an intuitive user interface, packed with features which reduce reaction times and makes the operation of video wall systems more productive. Ease of use features include the auto detection of sources as they become active, the option to group relevant content into subgroups and the functionality to share content and control remote computers. With a powerful scripting tool and the ability to control third party control systems, VuWall2 is a solution we will look to use for upcoming projects.
In the Digital Signage Pavilion, we were introduced to John Henkel, Director of Product Marketing at RGB Spectrum, to discuss their new technology platform 'Zio'. This solution replaces the need for traditional dedicated switchers by offering audio and video distribution over an IP network. The result is a low cost of ownership, and with a powerful, yet simple to use interface, the possibilities Zio brings to the networked AV industry is something we are excited to investigate further.
Around the corner from RGB Spectrum, Intevi were showcasing their latest IPTV and digital signage product – Intevi Digital Television (IDT). The easy to-use-web based interface was a real selling point as Intevi demonstrated the seamless integration of IP video streams with digital signage and content management. With a few mouse clicks administrators have central control of channel selection and the ability to apply branded templates to multiple screens simultaneously. The added functionality to access the user interface from a mobile device only added to our appreciation of the solution.
Crestron used InfoComm to announce significant developments in their commercial audio offering which, until now is an area they have been admittedly light in. Tony Ang, General Manager for South East Asia at Crestron, took us through three key product announcements; Avia Digital Signal Processors (DSPs) & DSP Tool, Multichannel Amplifiers and Modular Amplifiers.
The new precision-engineered Avia DSPs and software tool removes the complexities of audio programming, tuning, expansion and integration. They support audio over IP using the Dante™ network and integrate natively with the new Multichannel and Modular Amplifiers to deliver best-in-class audio solutions for commercial and institutional spaces of all sizes.
In the Audio Pavilion, Cambridge Sound Management launched the Qt Active Emitter; a new direct field sound masking system that combines high performance sound masking with enhanced paging and music capabilities. The new emitter now comes with direct power, allowing for louder paging and music playback. It's no wonder the Qt Active Emitter picked up an award in the Acoustical Treatments category and it is a product we will look to specify on future installations.
HARMAN's Connected Services was a key part of their stand and was where they were showcasing their Managed Internet of Things (IoT) Solutions. This sophisticated service has been created to unlock the potential of a connected world by integrating the best of HARMAN and industry components to provide seamless customer insights. The IoT Solution can track the flow of people, fluctuations in office temperature, crop moisture levels, traffic density, product inventory, patients' vital signs and a thousand other data points. With no barriers to compatibility or connectivity, the potential is endless and is a solution we will certainly be keeping a close eye on.
There is no doubt InfoComm 2016 was a resounding success. It was a great opportunity for us to catch up with key partners and explore new opportunities as the latest technology was unveiled. We would like to thank the Convention Centre organisers and associated staff, as well as all of the exhibitors for delivering such an inspiring event.