This month a team from Cinos visited InfoComm 2016, one of the most notable trade shows in the audio visual industry. The show was spread across three days at the Las Vegas Convention Centre where there were more than 1,000 exhibitors, thousands of products, and nearly 40,000 attendees from 110+ countries.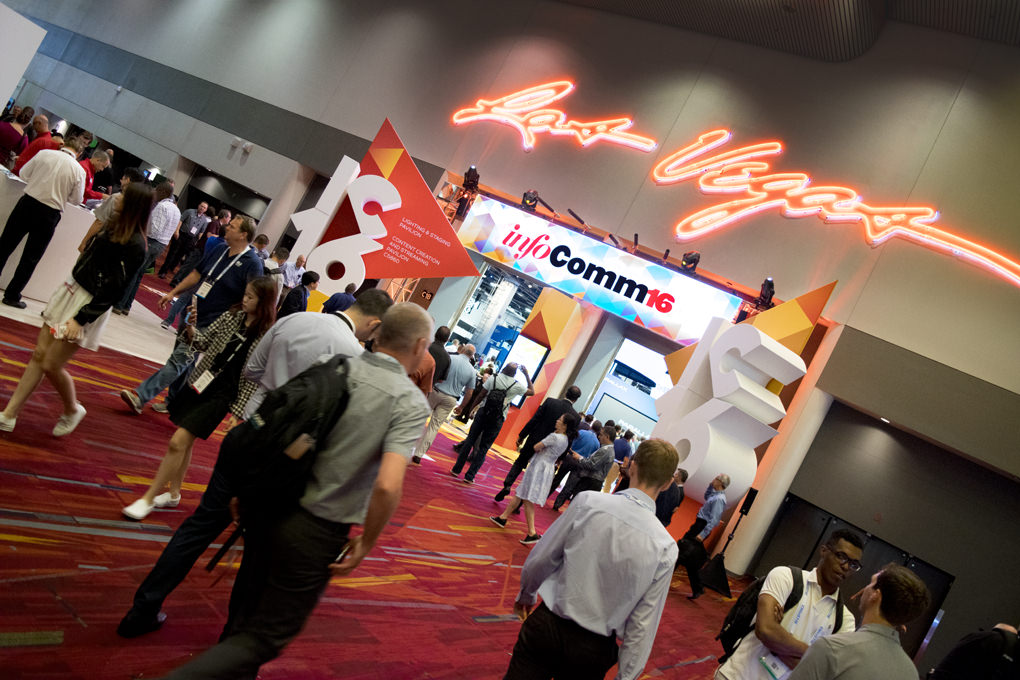 On our first day, one of the most impressive solutions we saw in the Unified Communications & Collaboration Pavilion was 'Mezzanine' from Oblong Industries. This truly dynamic collaboration platform is characterised by its fluid interface that spans multiple screen surfaces, combined with a ground-breaking gestural interface that allows full user control. The latest enhancement, dubbed 'Mezz-In', was announced at InfoComm and enables collaboration for remote participants by integrating videoconferencing into the Mezzanine web client.
Sticking with the collaboration theme, Cyviz used InfoComm to launch 'Cyviz Easy', an elegant, configurable control and management platform designed to support the complete portfolio of room types. Cyviz Easy is fully standardised and upgradable like any other software solution; reducing installation and support costs whilst enhancing the business value and familiarity of collaboration rooms. With new features such as the ability to pinch and zoom within PiPs and web browser based content sharing, Cyviz Easy is a solution we look forward to sharing with our customers and partners.
We would like to extend our congratulations to Barco, whose ClickShare product range won the 'Best Collaborative Product' award for the third year in a row. Barco also used InfoComm to launch another award-winning product, their Flagship laser series for 24/7 control rooms. The Flagship series offers RGB laser projection cubes to create large video walls; delivering laser brightness levels and vibrant colours. With an estimated lifetime of over 11 years in 24/7 operation, the Flagship series is a solution we will certainly consider for our clients' command and control requirements.
It was easy to get distracted as we walked around the Convention Centre with so much eye-catching technology on show. Nothing epitomised this more than the stunning 8K LED video wall on the Leyard stand. The wall measured more than 9.5m wide by 5.5m tall and was composed of 64 Leyard TWA1.2 LED video wall displays boasting a 1.2mm pixel pitch.