We are delighted to announce our new strategic partnership with Cyviz; a leading manufacturer of complete turn-key systems for high performance visualisation and collaboration. The move strengthens our ability to meet the needs of our clients with both collaborative and command and control requirements.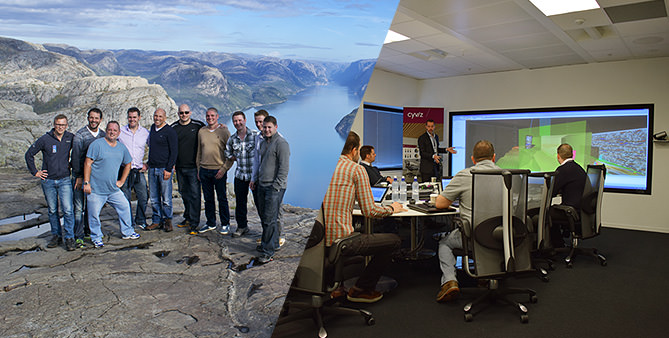 In September a team from Cinos spent a couple of days with Cyviz over in Norway. On day one we were invited to spend some time climbing to the peak of the Pulpit Rock. This not only gave us the time to forge relations on the treacherous path up to the peak but gave us one of the most breath taking views we have seen.
Day two was firmly focused on business and was spent at the Cyviz headquarters; Europe's most advanced technology centre based in the centre of Stavanger. Our Cyviz colleagues gave us a complete overview of their product portfolio, including sales, marketing and installation training. This hands on approach proved to us how an exceptional design and user experience can lead to one of the most intuitive work space environments we have seen.
Partnering with Cyivz further enhances our ability to provide enterprise grade, mission critical control room solutions for our clients in the public, private and oil & gas sectors. The high grade, ultra-high definition display walls & projectors alongside intuitive interfaces allow organisations to analyse data quickly, securely and in the collaborative manner so often associated with command and control environments.
Karl Deady

Director, Cinos
Whilst we can see the clear advantages for the command and control arena, the product range also provides businesses with an easy to use collaboration offering for room based solutions and executive boardrooms right through to immersive telepresence. With the ability to share multiple data sources such as graphs, technical drawings and presentations via the integrated video conferencing service, the solution from Cyviz delivers the perfect collaborative environment for today's work place.
Cyviz is proud to establish Cinos as a key partner in Europe. The company has a complete skill-set in dealing with innovative solutions for challenging tasks. Cinos knows how to capture users' requirements and is also extraordinary competent in project execution and operational support. Cinos will be instrumental to Cyviz' strategy of further developing the market for high-end systems in both public and private sectors in Europe.
Glen J. Lambersøy

Commercial Director, Cyviz