Collaborate anywhere, on any device
In today's global, distributed work environment the need to easily connect to colleagues, partners and customers is of the upmost importance. Organisations of all sizes are striving to improve their communications; from making it easier to connect with the right people at the right time to reducing the vast quantity and modes of communication.
The Cisco Jabber platform delivers this enhanced communication; allowing you to be more productive from anywhere and across a broad range of devices. Cisco Jabber gives you instant messaging, voice and video calls, voice messaging, desktop sharing, conferencing and presence. It allows you to find the right people in your organisation, see if they are available and collaborate in the way you want – from your desktop, tablet or smartphone.
So, if you are looking at streamlining communication within your organisation then you need to consider Cisco Jabber. Amongst a wide range of benefits your employees can enjoy enterprise-grade telephony with high-fidelity audio and standards-based video capabilities. Save on expenditure through placing and receiving calls whenever you have an internet connection and choose the best provisioning model for your business; either on premises or on demand as a cloud-based service.
To learn more about Cisco Jabber check out the datasheets or get in touch with our team who would be happy to discuss your requirements.
Cisco Jabber – Capabilities and Benefits
Instant message and presence. Improve productivity. Use real-time presence information and instant messaging to reduce delays. View the availability of contacts within and outside of your organisation.
Communicate from Microsoft Office. Keep things simple. Access Cisco Jabber directly from Microsoft Office applications. Just click to initiate chat, voice or video calls, or multiparty conferences.
Collaborate anywhere, anytime. Go where you need to go. When you're mobile, access all of Cisco Jabber's features, including video conferencing, with the same ease of use you get on desktop.
Business-class voice and video. Communicate clearly. Get secure, reliable communications with Cisco Jabber's soft-phone features, including HD voice and video, plus desktop sharing.
Windows & Mac
Make faster, more informed decisions by using presence information to access experts as soon as they are available.
Accelerate team performance by sharing documents and group collaborating with audio, video, and web conferencing.
Collaborate directly from Microsoft Outlook by viewing a contact's availability and simply clicking to IM or call.
Limit the costs of business travel and phone charges by using a single tool for all modes of electronic communications.
Choose the best provisioning model for your business; Cisco Jabber can be deployed on-premises or on demand as a cloud-based service.
Android, iPhone & iPad
Use your business phone number for outgoing and incoming calls, hiding your personal phone number.
Connect instantly, find contacts in your corporate directory, use instant messaging, and view visual voicemail.
Lower costs by placing and receiving calls over wireless LAN and Wi-Fi networks.
Break out and collaborate by cross-launching Cisco WebEx Meetings from inside a Jabber call.
Experience real-time face-to-face video and voice calling.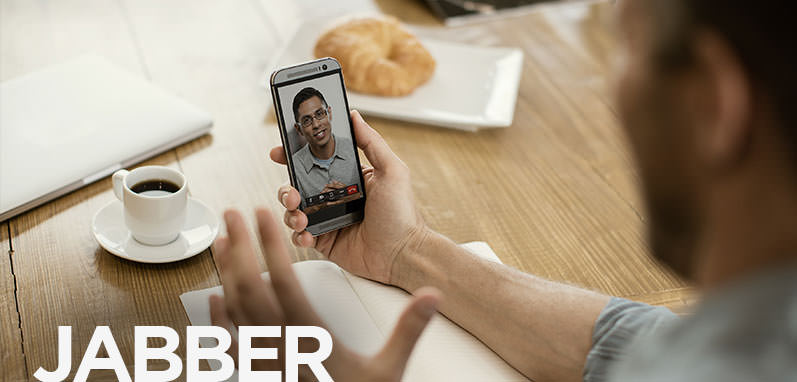 Cisco Jabber with Stellaris
Stellaris is a scalable collaboration and video conferencing platform built on Cisco infrastructure. Our aim is to deliver an industry leading service to any size organisation.
Leveraging a cloud hosted Cisco platform on which to base our services, Stellaris delivers secure, highly scalable, highly available, feature-rich Cisco collaboration services, providing a simple user experience regardless of the user device of choice or location.
So, if you are looking at your communications strategy and considering Cisco solutions, you must speak to us about Stellaris. Not only could it save you money, it will truly unify your communications.
Stellaris. Built on Cisco. Integrated by Cinos.
Scalable enterprise communications for everybody
Cisco Case Studies
Introduction
A critical telephone system upgrade […]
Cisco Premier Partner
As a Premier Certified Partner, Cinos are perfectly placed to deliver Cisco solutions into your organisation. To earn this status, Cinos has to meet standards for networking competency, service, support and customer satisfaction set forth by Cisco.
Through demonstrating a high level of technical expertise for Cisco products we are able to identify the best solution for your needs; taking into account your budget and maintenance requirements.