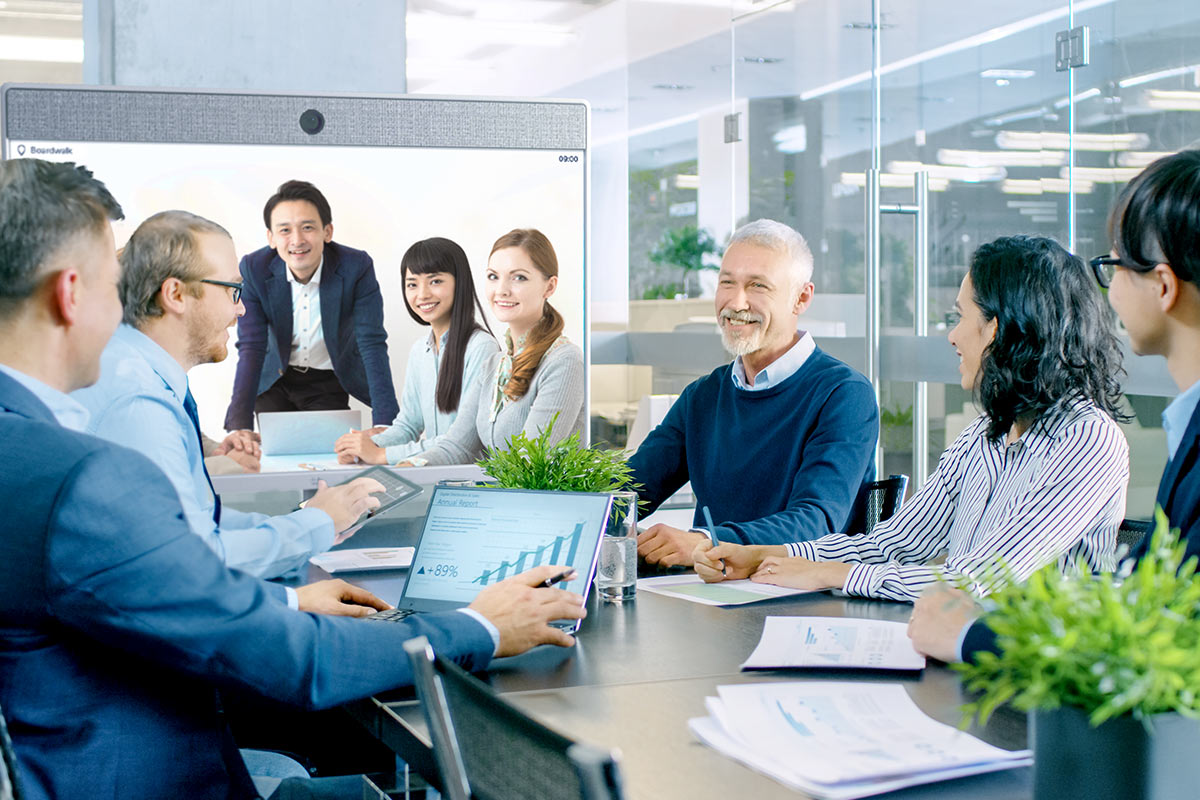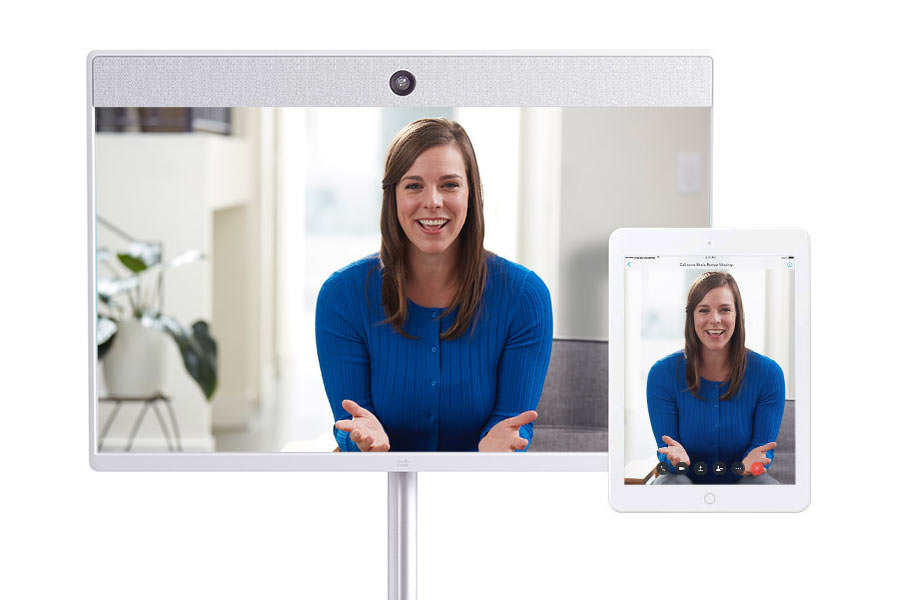 Fully integrated collaboration system for small to medium meeting rooms
Bring more intelligence and usability to your meeting rooms with the Cisco Webex Room 55. This sophisticated solution delivers video conferencing straight out of the box; transforming any room into a video-enabled collaboration hub.
The Cisco Webex Room 55 offers an unmatched video and audio experience, combined with a cutting-edge, Red-Dot awarded design to create a compelling team collaboration system. It includes a 55inch 4K display, camera, codec, speaker system and microphones, all integrated into one device. Encased in a beautifully designed frame, the Cisco Webex Room 55 brings a greater level of sophistication, intelligence and usability to your small and medium sized meeting rooms.
Using the Cisco Webex Room Kit as its base technology, the Webex Room 55 offers new capabilities including speaker tracking, wireless presentations, best overview, automatic wake-up and people count to deliver smarter meetings, presentations and device integrations. It is ideal for rooms that seat up to seven people and has been priced and designed to be easily scalable to all your meeting rooms and spaces.
To learn more about the Cisco Webex Room 55 please check out the information below. Alternatively, if you would like to speak to our team, please get in touch and we would be happy to help.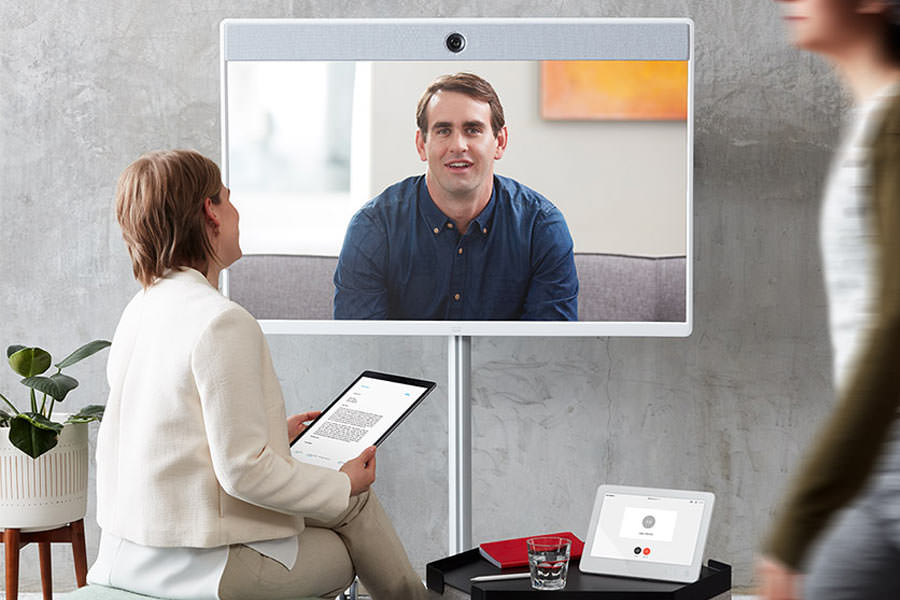 Specifications at a Glance
| | Webex Room 55 |
| --- | --- |
| Overview | Fully integrated telepresence system for a small or medium-sized meeting room. |
| Registration | On-premises or Cisco Webex. |
| Audio | Powerful fulltone and bass speakers optimised for voice. |
| Screen | Professional grade 55″ 4K LED LCD display. |
| Camera | Speaker tracking camera with 2.6x zoom for rooms up to 6 metres / 20 feet. |
| Connectivity | 2x HDMI input, 1x HDMI output, built-in Cisco Intelligent Proximity wireless sharing. |
| Control | Touch10 control panel with One Button to Push (OBTP) simple meeting joining. |
| Dimensions | 62.7 x 49 x 30.5 inches (Based on floor stand configuration). |
| Downloads | Webex Room 55 Datasheet |
Award-winning design
Light, sophisticated industrial design is recipient of 2017 Red Dot award for innovation in design

Camera innovation: Powerful 5K UltraHD camera and wide-angle lens cover everyone in the room
Stereo speakers with dedicated centre speaker for optimal voice pick-up

Built-in amplifier to deliver rich sound

Speakers above screen for more equal room coverage
Screen innovation: 4K professional-grade screen
Fabric front for natural and inviting feel

Aluminium frame for lightness in design and sustainability

Increased height over previous generation to accommodate taller tables (10 cm/4 inches taller than MX300)
Highly reliable as components and software are designed to work together

Designed to minimise latency and echo
Smart presentations
Supports dual screens for video and content

Supports dual content sources for local meetings

View white board content and annotations shared from Cisco Webex Board, Cisco Webex DX80, or Cisco Webex Teams app; participate in white boarding sessions through Cisco Webex Teams app

4K content sharing (local 30 fps; remote 5 fps)

Wired or wireless content sharing (only two wires required – power and HDMI)
Smart meetings
Brings intelligent views to smaller rooms with discreet, integrated camera
Supports dual screens for video and content

Wired or wireless content sharing (only two wires required – power and HDMI)
Great audio experience with integrated microphones, speakers, and amplifier; supports room elegance with no wires or microphones on the table

Automatic noise suppression reduces disruptive sounds coming from the meeting room (e.g., typing, paper rustling)

Simplified meeting-join experience with One Button to Push (OBTP) for scheduled devices in a Cisco Webex Meetings or Webex Teams meetings, whether registered on-prem or to Cisco Webex

Automatic wake-up: System "wakes up" when someone walks into the room and suggests activities for fast and easy meeting start

Easily controlled by the Cisco Touch 10 control unit (Touch 10) or with a Cisco Proximity or the Cisco Webex Teams app
Smart rooms
Metrics: Counts people in the room, enabling analytics for better resource planning

In-room control: Controls peripherals such as lights and blinds through the Touch 10
Built for cloud and premises
Flexibility to register on-premises or to the cloud through Cisco Webex

Hardware is optimised to run on a cloud platform for great experiences in shared rooms and spaces, with easy access to hosted conferences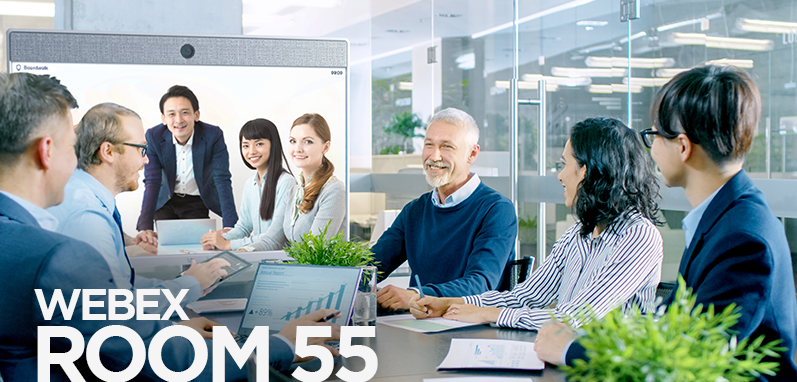 Webex Room 55 with Stellaris
Stellaris is a scalable collaboration and video conferencing platform built on Cisco infrastructure. Our aim is to deliver an industry leading service to any size organisation.
Leveraging a cloud hosted Cisco platform on which to base our services, Stellaris delivers secure, highly scalable, highly available, feature-rich Cisco collaboration services, providing a simple user experience regardless of the user device of choice or location.
So, if you are looking at your communications strategy and considering Cisco solutions, you must speak to us about Stellaris. Not only could it save you money, it will truly unify your communications.
Stellaris. Built on Cisco. Integrated by Cinos.
Scalable enterprise communications for everybody
Cisco Case Studies
Introduction
A critical telephone system upgrade […]
Cisco Premier Partner
As a Premier Certified Partner, Cinos are perfectly placed to deliver Cisco solutions into your organisation. To earn this status, Cinos has to meet standards for networking competency, service, support and customer satisfaction set forth by Cisco.
Through demonstrating a high level of technical expertise for Cisco products we are able to identify the best solution for your needs; taking into account your budget and maintenance requirements.