This month a team from Cinos visited Amsterdam to attend Integrated Systems Europe (ISE). The 2016 exhibition was the first to be held over four days; a move that reflects how the event has developed since its launch 13 years ago. With all the AV manufacturers under one roof, ISE provides our team with the perfect opportunity to catch up with key partners and check out the latest technology.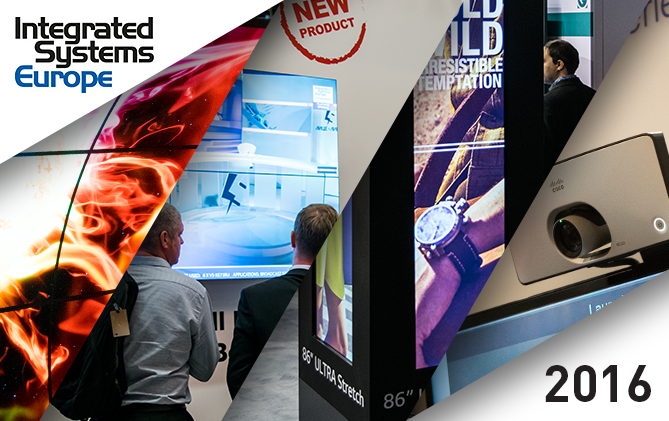 We would first like to extend our congratulations to AMX by Harman for their success at the InAVation Awards; an event scheduled in tandem with ISE. The SVSI N3000 Series from AMX won the award for the most innovative video processing and distribution product. Showcased on the stand at ISE, this series represents a fundamental shift in the way AV technologies approach windowing processing and is a solution we are looking forward to adopting.
The latest developments in touch panel technology were also on display at the AMX stand. The most recent innovations aim to reduce table clutter in the form of the Modero X Retractable and HydraPort Touch Panels. Whilst not in use, the touch panels can either retract into the table or close with the HydraPort; completely hiding the control system interface to provide an aesthetically pleasing environment.
The passion for innovation and product development was clear as we were taken around the LG stand. Taking centre stage was the world's narrowest video wall, combining numerous VH7B 55" displays with only a mere 0.9mm bezel. When a video wall is not a suitable option, LG have provided a unique 86" 'Super Stretch' LED display, with the ability to mount in either portrait or landscape. With this level of innovation, and as well as adding 65" and 75" models to their commercial range, we are confident LG's products will be well received by our client base.
Whilst the latest commercial developments were impressive, it was great to see the diversity in products from LG. The hotel sector will benefit from the new LG Styler; a one of a kind clothing management system designed to refresh clothes without the need for detergent. The dual-view, curved OLED signage solution provided a 'wow' factor for passers-by and will no doubt be seen soon in retail environments.
In addition, we caught a glimpse of what the future of digital signage could be with Arch OLED Signage; a solution which, like the N Seoul Tower in South Korea, utilises curved displays to create signage for tunnels, ceilings and much more.