ISE is a great opportunity for our team to check out the latest product developments from our key suppliers. What makes that even better is when two of our key suppliers work together to create solutions that are better suited to modern workplace collaboration.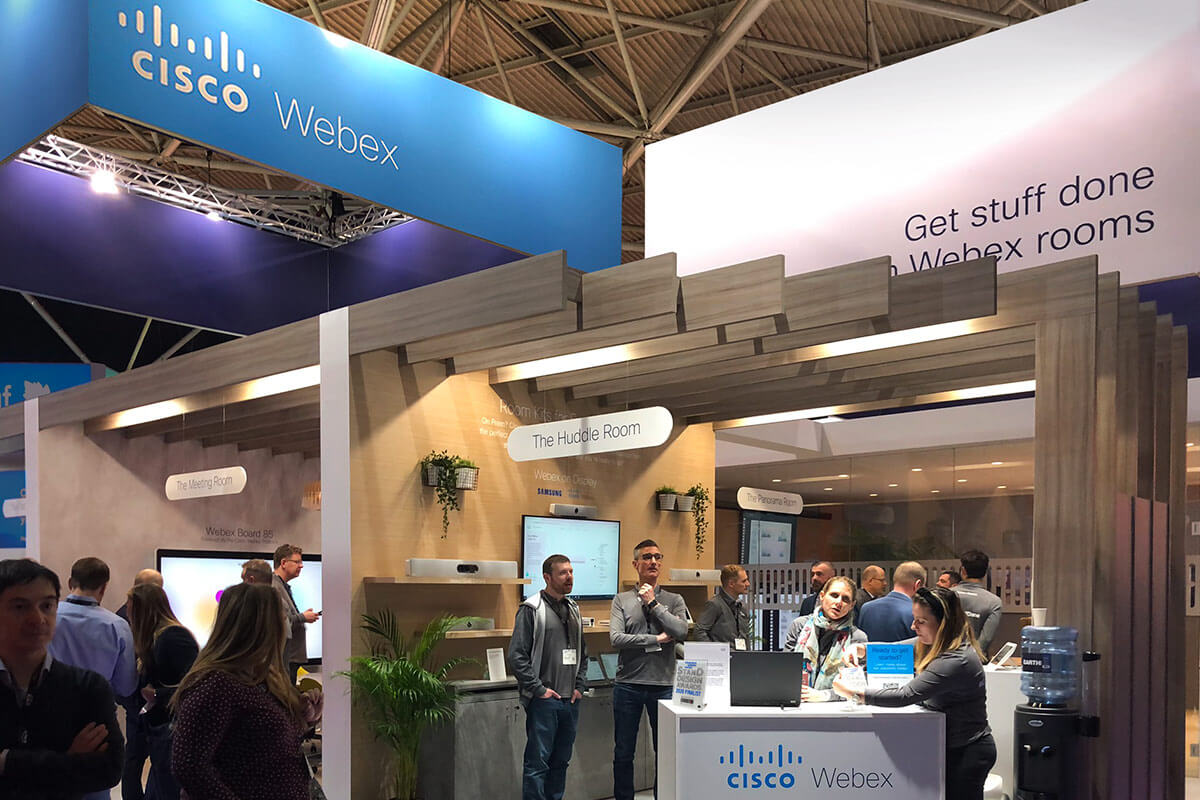 That is exactly what happened between Cisco and Samsung when they entered a strategic partnership and a commitment to deliver solutions that make it easier for organisations to adopt the 'Future of Work. On Display.'
So, what does this mean? We caught up with the guys on the Cisco stand to find out more.
Cisco Webex Room Panorama
Taking centre stage was the Cisco Webex Room Panorama. Positioned as the flagship model of the Webex Rooms Series, Panorama combines the amazing 8K QLED displays from Samsung with the Cisco Webex conferencing infrastructure to deliver a fully immersive video experience with rich content sharing.
As the team sat down for a demo it instantly felt like we were in the same room as our recipients. This was an immersive video experience with a difference. The meeting room desk felt like it extended out into the video meeting, rather than everyone simply facing the screen. This setup made it so easy to converse with both recipients in the room and those at the far end. The combination of the Samsung displays, quad 5K camera and exceptional audio coverage gave a lifelike feel to the conference. Furthermore, with the addition of a 65-inch Samsung 4K display for content sharing and presentations, Cisco and Samsung have delivered a solution that offers first-class collaboration for both local meetings and for connecting teams across the world.
With a true lifelike experience, the Cisco Webex Room Panorama sets itself apart from other immersive video solutions on the market and is one that Cinos are perfectly placed to install. With a dedicated and vastly experienced Cisco team, combined with a proven track record of delivering world class AV installations, Panorama ticks all the boxes from an installation perspective and is a solution we look forward to working with.
Webex on Flip Integration
The solutions from this strategic partnership didn't end there. We left the Panorama conference room and entered the huddle room area where we were shown the latest iteration of the 'Webex on Flip' integration.
Designed to offer organisations the perfect collaboration platform, Webex on Flip combines Samsung's leading display technology with Cisco's best in class video and collaboration technology. And this year, for the first time, we saw the Webex Room Kit Mini integrated with the new Samsung Flip 2.
With extensive experience in both Cisco and Samsung products, our team knew the advantages, but it was great to see them first-hand. The combination of these market-leading technologies offers an industry-first plug-and-play solution to transform any huddle space into a space for engaging face-to-face meetings with dispersed teams with a set of feature-rich collaboration tools at your fingertips.
Not only does the Cisco and Samsung partnership improve modern workplace collaboration, it hits a sweet spot for Cinos from an installation perspective. We have extensive experience with Samsung display technology and the Flip has been a real hit with our customers. Combine that with a collaboration team who know Cisco inside out and Cinos are perfectly placed to deliver these solutions into organisations of all sizes.
We would like to thank the team at Cisco for taking the time to show us around their latest innovations, centred around the power of Webex. Whether that is at the desk with the brand-new Webex Desk Pro, or in the boardroom with the sleek and stylish 4K Webex Board 85. If there are any solutions you are currently looking into and would like to discuss your requirements please do not hesitate to reach out, we are perfectly placed to help.