ISE 2019 was a huge success for Crestron who received 17 industry awards from leading AV trade publications – a company best! Like previous years, the stand could not be missed and saw a constant flow of traffic. Checking out the latest product developments is always a key highlight for Cinos, and to that end, we caught up with Account Manager, Matthew Buck for a stand tour.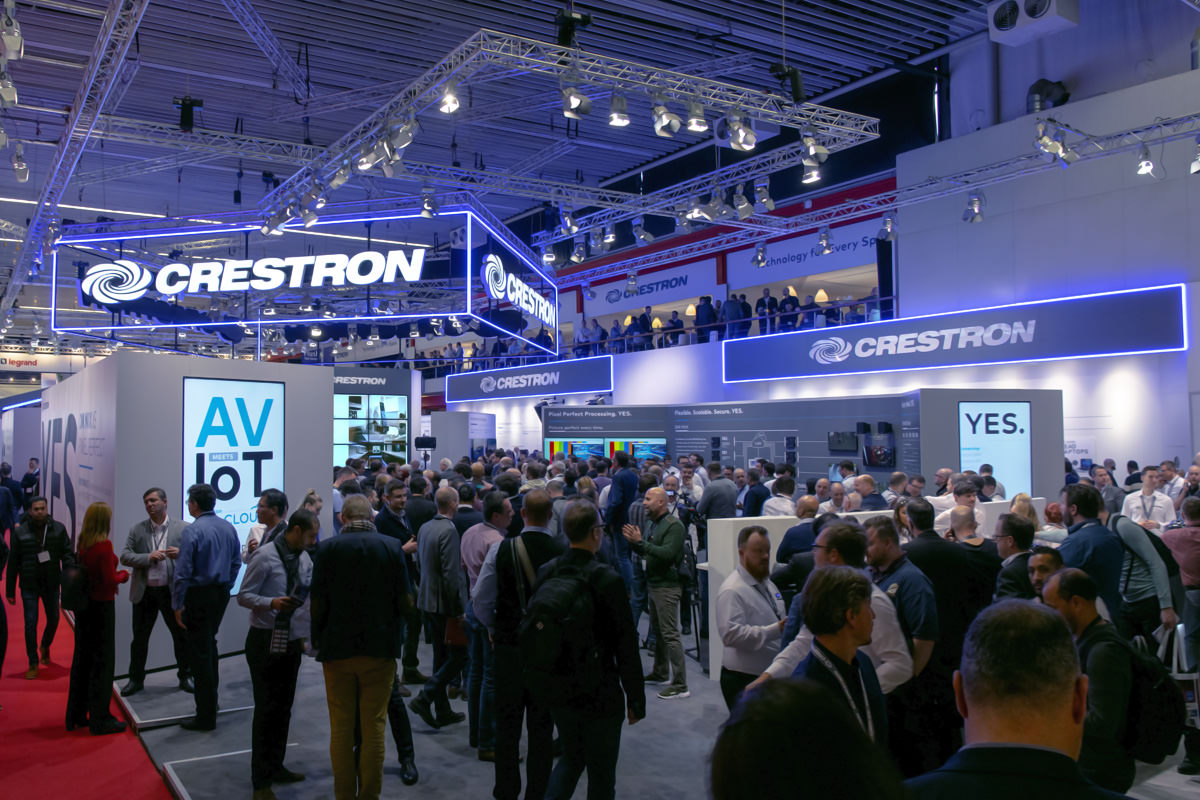 Crestron Flex
ISE debutant, Crestron Flex won several event accolades including the Best Collaboration Solution in the TNT UC&C Awards. After being shown the range by Matthew it was clear to see why.
The Crestron Flex range offers a native Skype for Business, Microsoft Teams or Zoom Rooms for any space that you work in. The Flex solutions come in several forms, but all deliver the same experience, regardless of the space in which they are deployed.
For desktop users, Crestron have created their first ever voice-over-IP phone with the Flex P100 Series. This stylish desktop phone features a large touch screen which delivers a native MS Teams or Skype for Business experience; enabling users to access calendars and connect with colleagues quickly and intuitively.
Moving up the range and for those requirements where you need better microphone pickup and additional speakers, the Flex M100 Series has you covered. This series of tabletop solutions deliver an optimal audio performance and provide everything you need to instantly and securely call, present, and video conference. As well as benefitting from the native MS teams, Skype for Business and Zoom Rooms experience, users can connect their laptop and use any other application or conferencing service.
For conference rooms and executive offices, the Flex B100 Series boasts a beautifully designed soundbar which delivers crystal clear audio with a beam forming microphone array. The integrated 4K high-definition camera offers auto-zoom and lifelike image quality. This meeting room solution pairs with a 10" touch screen to deliver an intuitive and powerful in-room user experience.
To complete the range, the Flex C100 Series is a flexible integrated UC kit which brings the one touch join meeting experience to larger spaces such as conference centres, boardrooms and auditoriums. As well as supporting a native experience for Zoom Rooms, MS Teams or Skype for Business, the Flex C100 Series includes an optional certified digital sound processor and ceiling tile microphone array.
Learn more about Crestron Flex
Crestron DM NVX
Like with previous years, Crestron's networked AV solution, DM NVX, had a large presence on stand and our team were eager to see the latest developments in the range. Working in association with Intel and intoPIX, Crestron have ensured DM NVX delivers a flawless image every time with their new Pixel Perfect Processing Technology. The results were clear to see as DM NVX was pitched against competitor products. It was by far the best image quality we have seen for a networked AV solution with perfect clarity and no latency over a 1Gigabit Ethernet.
The latest editions in the range included the much-awaited DM-NVX-352(C) which brings support for the AES-67 and Dante™ audio networking. In addition to this, Crestron debuted the new DM-NVX-E30(C) and DM-NVX-D30(C). These encode or decode-only units have been introduced to offer additional flexibility for smaller spaces when only video are audio needed. They support HDMI connectivity and analogue audio.
Crestron XiO Cloud
It was great to see the new additions to the Crestron range of solutions, especially with the ability to centrally deploy and manage these products with Crestron XiO Cloud, announced last year at ISE. Since its introduction, Matthew stated that companies are seeing up to 90% reductions in installation time, improvements in device uptime and less strain on support resources. Having worked with Crestron XiO Cloud for the last year we have seen first-hand the benefits it can bring and for organisations with a large Crestron estate, XiO Cloud is a must have.
With so many new products and developments on show it is impossible to mention all the highlights. We would like to thank Matthew for taking the time to show us around the stand. There is no doubt our team were impressed with the latest developments, particularly Crestron Flex, which we are looking forward to working with. As a Crestron Elite Partner, we are perfectly placed to discuss any commercial requirement you have. If would like to discuss any of the solutions on show at ISE please get in touch with our team who would be happy to discuss your requirements.