Cinos attended the 6th NEC Solutions Showcase staged at The Velodrome, in the London Olympic Park. The showcase provided a unique opportunity to observe and interact with fully integrated display solutions across nine fully operational interactive zones.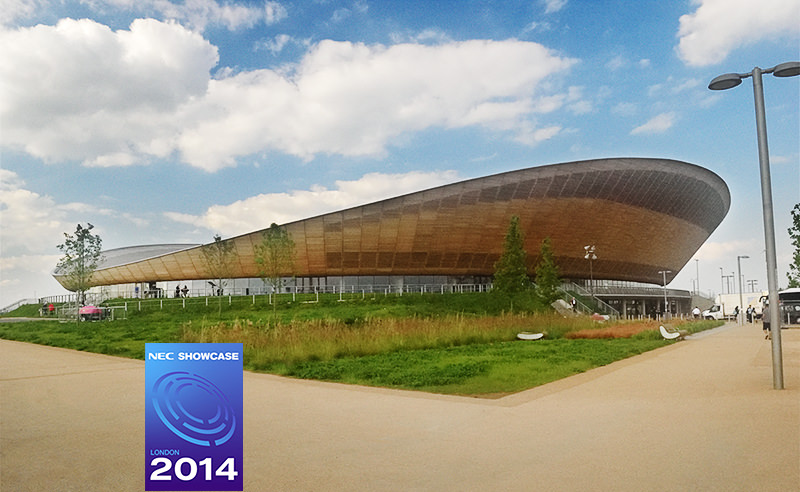 Within these zones, some of the top manufacturers in the world demonstrated how their integrated solutions could be tailored to vertical specific environments such as corporate communications, the emergency services and education.
During the event Cinos got the opportunity to view some of the latest product developments from our strategic partners in a working environment.
In the corporate zone, AMX demonstrated how the right technology and a unified approach can deliver the perfect collaborative environment. The Enzo was of particular interest as more of our corporate clients embark on the collaboration journey. An ideal solution for any conference room or meeting space, allowing users to quickly and easily present and share information from multiple sources. The solution was getting lots of positive exposure and looks certain to be a corporate sector favourite.
In the transportation zone, Extron showcased a Videowall application designed for a traffic centre environment with content streaming delivered via standard encoders and decoders.
The Quantum Elite Videowall processor provides a reliable solution for quick and easy presentation of numerous high quality video sources as well as the ability to display multiple layouts. The solution allows content to be easily routed to workstations and remote control rooms via IP streaming.
Tripleplay were based in the corporate communications zone displaying their intuitive and easy to use content delivery solutions.
By combining the use of digital signage, IPTV and video on demand, Tripleplay demonstrated how their powerful software solutions can meet the needs of any organisation looking to develop their content delivery systems.
As Tripleplay solutions benefit from years of careful design and thoughtful architecture they are capable of delivering multiple technologies and user requirements from a single server installation. Combining innovative design features and an easy to use interface, Tripleplay solutions deliver a compelling technical and commercial proposition.
The showcase provided Cinos with a valuable opportunity for us to see the latest technology prior to general release and how we can integrate it into our clients' estate ensuring we continue to deliver technical and service excellence.
If you are considering deploying a specific technology solution or just want advice on how Cinos can help you deliver world class Audio Visual solutions and services, please do not hesitate to get in touch, the team are ready to discuss your requirements.