Face-to-Face Collaboration in Small Workspaces
The Cisco TelePresence SX10 Quick Set is an all-in-one unit designed to video-enable your small collaboration spaces. This solution offers great affordability for small-to-medium businesses just starting out with telepresence, or for extending telepresence throughout an enterprise.
High quality, simplicity, and affordability come together in the SX10 Quick Set; allowing you to use any flat-panel display to add video collaboration to small rooms and huddle spaces. The SX10 Quick Set is a practical and powerful business class solution, created to deliver video ubiquity.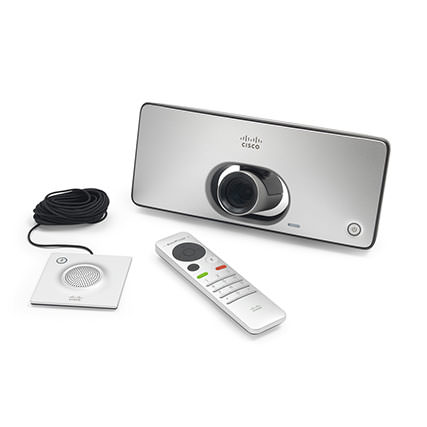 *Includes 5x zoom camera and remote. Other bundle options are available and can be discussed upon enquiry. Price includes UK delivery. Price excludes VAT.
As a Premier Certified Partner, Cinos are perfectly placed to deliver Cisco solutions into your organisation. To earn this status, Cinos has to meet standards for networking competency, service, support and customer satisfaction set forth by Cisco.
Through demonstrating a high level of technical expertise for Cisco products we are able to identify the best solution for your needs; taking into account your budget and maintenance requirements.
Specifications at a Glance
Optimal definition up to 1080p30 with content sharing at 1080p5
Wide-angle 83° horizontal FOV with 5x zoom
Supports Cisco Intelligent Proximity for content sharing to mobile devices and wireless sharing from laptops (Macs and PCs)
Wireless control of the system is also enabled with Intelligent Proximity
Easily control room peripherals such as lights, room dividers, curtains, directly from the Cisco TelePresence Touch 10 (optional) through customizable API1 (requires external third-party control system processor)
Ready-to-use unit with Power over Ethernet (PoE)
Integrated microphone
Energy efficient with low consumption (EU Class B)
Registers with Cisco® Unified Communications Manager (UCM) and Cisco TelePresence Video Communication Server (VCS)
Business-quality video, priced to scale at roughly the cost of a PC
Camera and codec in a single compact device that sits on top of your standard flat-panel display
Cisco Intelligent Proximity support for content sharing to mobile devices and wireless sharing from laptops (Macs and PCs)
Simple, elegant cabling that connects through a single-cable system for both power and ethernet connectivity
A wide-angle field of view that provides exceptional visibility, even in small spaces