ClickShare is the wireless presentation solution from Barco that has revolutionised the meeting room experience. From the huddle space to the boardroom (and all the spaces in between) ClickShare delivers the most intuitive and consistent user experience for meeting collaboration.

As a Barco Gold Partner, Cinos are delighted to bring you three ClickShare promotions which give you even more reasons to 'tap into amazing'. Whether you are you are in the early stages of adding wireless presentation capabilities to your organisation, or looking to upgrade from an old ClickShare device, these promotions will make it even easier to achieve your objectives.
Try before you Buy
CSE-200+ or CSE-200
For a limited time only, Barco are giving users more reasons to 'tap into amazing' by offering a free 4-week trial of the CSE-200+ or CSE-200.
Considering using ClickShare in your organisation? We have the perfect offer for you.
If your organisation is considering ClickShare in your meeting rooms then why not trial a unit for free? For a limited time only, Barco are giving you the chance to trial either the ClickShare CSE-200+ or CSE-200 devices. Let your employees experience the power of ClickShare for up to 4 weeks and we are sure you will see the benefits. For more information on this offer please follow the links below. Alternatively, if you are already convinced, please click here to apply for your free trial.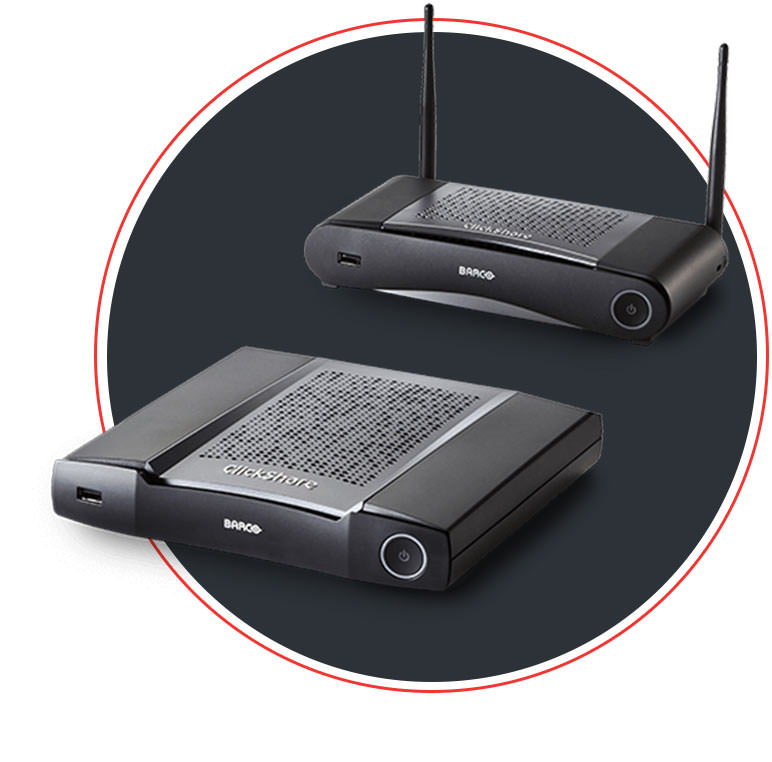 ClickShare Trade-In Discount
For CSC-1 and CSM-1
If you are using the old ClickShare CSC-1 or
CSM-1 models in your meeting spaces
now is the time to upgrade.
Are you using an end of life ClickShare CSM-1 or CSC-1? If so, now is the time to upgrade and enjoy a significant discount on one of the latest ClickShare devices.
Whilst the CSC-1 and CSM-1 models were great for their time, things have moved on. Amongst a whole host of reasons to why you should upgrade, the latest ClickShare devices offer enhanced security, whiteboarding, annotation and touchback features and support 4K video resolutions.
Depending on your requirement and device of choice you can save up to £885 on a brand new ClickShare device when trading in an old model. Please see below for the discounts available or get in touch with our team who would be happy to talk you through.
| | Normal Price | Trade-In Price | Discount |
| --- | --- | --- | --- |
| CSE-800 | £3,360 | £2,475 | £885 |
| CSE-200+ | £1,920 | £1,325 | £595 |
| CSE-200 | £1,490 | £880 | £610 |
Barco ClickShare 10% Discount
For UK Public Sector
If you are in the public sector and looking to
add wirel