Each year a team from Cinos visits Amsterdam to attend Integrated Systems Europe (ISE). Hosted over four days, the event brings together the world's leading AV technology solution providers who showcase their latest products and solutions. With Cisco exhibiting in the unified communications hall, we took a team from Cinos Comms to check out the latest product developments, most notably around Cisco Spark.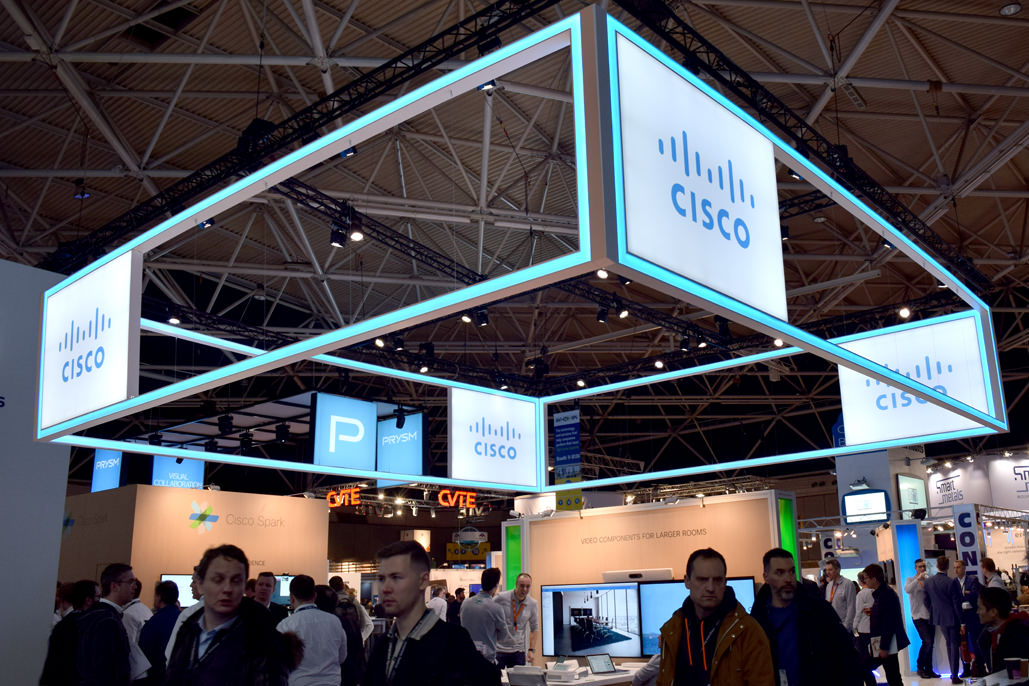 For those who are unaware, Cisco Spark is an unmatched, cloud-based collaboration service designed to make teams work more effectively together. Backed by Cisco's security and reliability, Cisco Spark delivers everything teams need for messages, meetings and calls. You can learn more about Cisco Spark by viewing our product pages here.
On stand at ISE, the Cisco Spark Room 70 solution, Cisco's flagship video collaboration device, attracted a lot of attention. Powered by Cisco Spark, this brand-new system offers dual 4K 70inch displays and is ideal for rooms that seat up to 14 people. A new a quadruple 5k camera enables faster, more intelligent framing of the room and its diagnostic mode provides people-count metrics for room utilisation analysis.
The dual 4K displays provide incredible clarity and resolution, including when participants are using Cisco Spark whiteboarding to collaborate with their team. On a video call one display can be used to view remote team members with the other one used to share content and collaborate. In a local meeting, separate sources can be displayed on each screen; allowing participants can compare notes and data.
Whilst the above features come together to offer a truly incredible collaboration solution, Cisco have set themselves apart from the competition by bringing Artificial Intelligence (AI) into the Cisco Spark offering. Rolling out with the Cisco Spark Room solutions, AI brings some fantastic features including voice control, automatic noise suppression and face recognition. And this is just the start. It's safe to say that our team are extremely excited by the Cisco Spark Room 70 and look forward to showcasing it to our client base.
Cisco Meetings in the Cloud
Around the corner the Cisco team were demonstrating 'Meetings in the cloud' – showing how easy it is to set up and join meetings in WebEx and Cisco Spark on any device. Straight away the simplicity was clear. Cisco demoed the solution using a desktop, smartphone, tablet and the Cisco DX70 device. In each case a user could set up or join a meeting without needing to worry about the device, passcodes or phone numbers. It was simply a case of clicking one button to join a meeting, regardless of device or application.
In the demo, the Cisco Spark application was shown on a Mac and again, the simplicity of joining a meeting was clear. Once in the meeting, the power of Cisco Spark really shone through. Separate spaces can be created for each team or conversation; allowing members to view message history and uploaded files. Furthermore, Cisco Spark offers screen sharing and whiteboarding functionality to deliver a seamless and unmatched collaboration experience.
As a Cisco Premier Partner are team are perfectly placed to deliver Cisco into your organisation. If you are interested in any products here or from ISE please get in touch and we will be happy to help.
Please note: The original version of this article is hosted on our sister company's website here.
If you are looking at Cisco for your organisation please contact CCS – Cinos Communications Services.