If you have attended ISE, you would have seen the Crestron stand, it is almost impossible to miss. Located in hall 2 of the RAI, Crestron showcased their latest solutions and developments, centring around meeting the challenges of the modern workplace. With a range of award winning products on show, the Cinos team caught up with our Crestron Account Manager to learn more.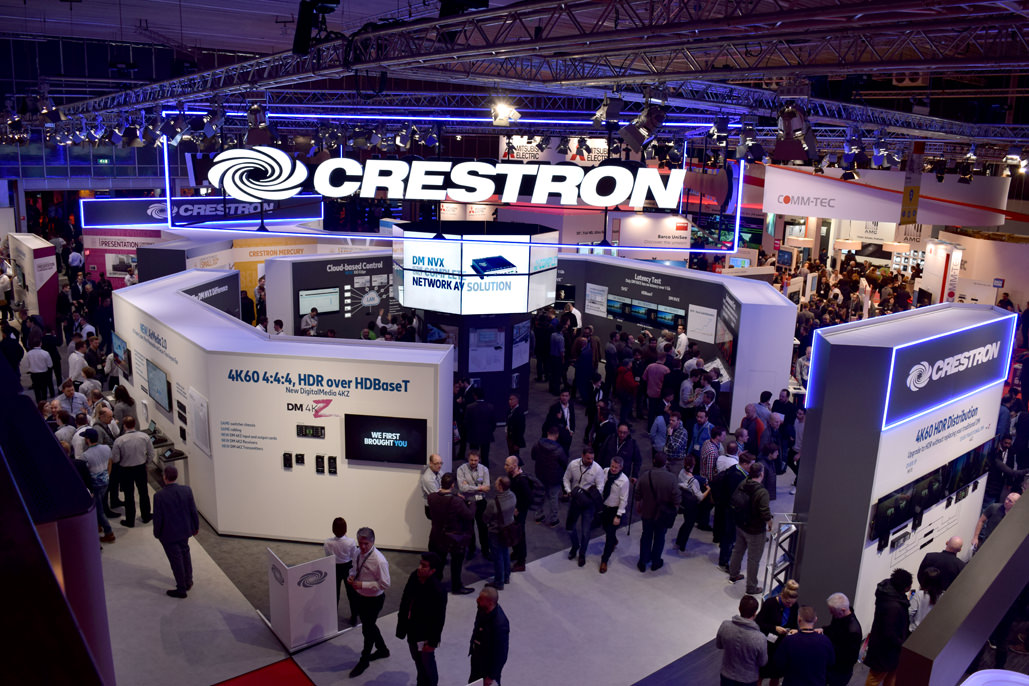 Digital Media (DM) NVX Series – The only secure network AV solution
In the networked AV area of the stand, Crestron were showcasing their latest developments in their DM NVX Series, first announced at ISE last year. The solution won the 'Best of Show Awards 2018' in the installation category and has deservedly earnt the reputation as the superior networked AV solution.
The latest enhancements in the DM NVX series focussed on the ability to deliver stunning 4K60, 4:4:4, and HDR video over standard 1 Gigabit Ethernet with no latency; a move which will please organisations far and wide as it eliminates the need for expensive, custom 10 Gigabit infrastructures.
Crestron used ISE to announce the latest arrival to the DM NVX family, the DM-NVX-352, a product which brings Dante audio networking to NVX; adding even more interoperability to their networked AV solutions.
The performance of DM NVX was pitted against competitor products in the booth and the results were clear. There is no comparison. DM NVX delivers, by far, the best image quality on the market and is the only solution that has no latency over a 1Gigabit Ethernet. This is a solution we are excited to be working with and are not surprised Crestron are describing it as 'The DM NVX Difference' in networked AV solutions.
Crestron AirMedia 2.0 wireless presentation technology
Another debutant for Crestron at ISE was the next generation of their wireless presentation technology – AirMedia. The latest version, AirMedia 2.0, has been integrated into nearly all of Crestron's presentations solutions and is now 'faster, easier, more manageable and secure than anyone else.'
"AirMedia 2.0 is the only enterprise-grade wireless presentation solution out there. It supports standard network security protocols and has the lowest latency and bandwidth," said Fred Bargetzi, Crestron CTO. "It supports Windows®, Mac® OS, iOS®, and Android™ mirroring without Bonjour®, and it can be deployed and managed from the cloud with Crestron XiO Cloud."
Amongst several performance enhancements, AirMedia 2.0 now offers the lowest latency in the industry at 50 milliseconds, a lower bandwidth utilisation on the network and increased video performance and quality. At Cinos we already have a healthy client adoption of Crestron AirMedia and after seeing the latest developments, we are sure this number will increase.