Royal Papworth Hospital, one of the largest specialist cardiothoracic (heart and lung) hospitals in Europe, is moving to a 310-bed new-build hospital on the Cambridge Biomedical Campus.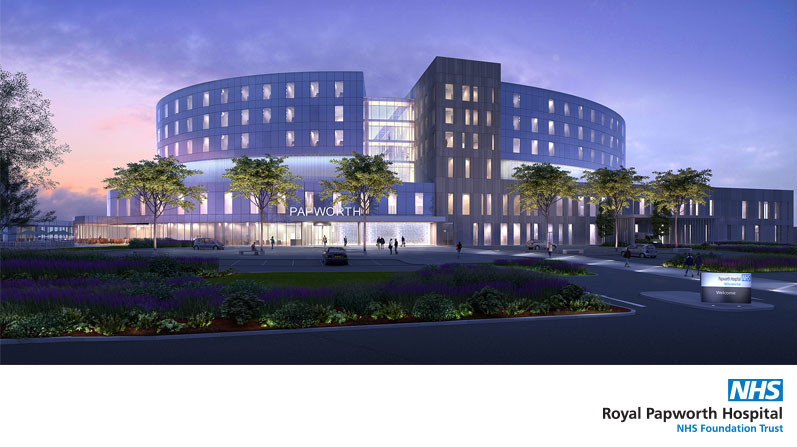 * Cinos Communicaitons Services (CCS) is now 'Cinos Limited' as of 1st August 2019.
As part of the move, the Trust recently awarded the contract to provide a new Unified Communications solution for hospital and it's administrative building, Royal Papworth House in Huntingdon, to Cinos Communications Services (CCS), a Cisco specialist partner based in Cranfield, Bedfordshire, with extensive experience providing secure UC and Collaboration networks into the UK public sector.
As a hospital treating more than 24,400 inpatients and 92,000 outpatients a year, resilience is absolutely key. Moving an entire hospital has numerous challenges and the ability for staff to make and receive calls is crucial, or lives can be at stake.
Unified healthcare communications with Cisco
To achieve this, CCS has designed and implemented a core Cisco Unified Communications Manager infrastructure, deployed virtually across multiple data centres and connected to multiple SIP PSTN services for maximum resiliency. To minimise risk during the implementation process, CCS has devised a phased approach which saw the core infrastructure installed alongside (and integrated with) the existing legacy telephone systems at Royal Papworth Hospital and Cambridge University Hospital. Staff have the peace of mind that whichever handset they pick up, whether on the old or new systems they can call any internal or external number.
The actual rollout of the system has been split into three phases:
Phase 1, proof of concept environment, allowing the Trust to run a small test bed and run training sessions on a fully operational system.

Phase 2, Royal Papworth House housing approx. 180 administrative staff.

Phase 3, the main hospital site housing approx. 1200 phones.
Following the proof of concept and training of staff on the new Cisco Unified Communications platform, Royal Papworth House successfully went into live service with 180 IP phones rolled out, and 350 users configured on Monday 25th June. Since then user adoption of Cisco Jabber has increased significantly, with many users requesting the softphone capability due to the ease of use and flexibility that the solution provides. Trust workers are now able to work from home yet still have full access to telephony features as if they were in the office, and are experiencing the benefits that a truly collaborative solution brings.
So, phases 1 and 2 ticked off successfully on the rollout plan, and CCS continues to work with the trust on the next phase of the project; the expansion of the system to provide switchboard functionality and onboard the remaining 1200 users in time for the opening of the new hospital site early next year. Exciting times ahead!