Today's meeting rooms are a valuable asset for many organisations. With the right technology in place, they offer more than just an area to meet and discuss, they are a place where teams come together to solve problems and get work done. With the dependency and strategic importance of meeting rooms rapidly increasing, so does the need for a solution which manages these rooms to avoid scenarios such as double bookings and meeting room confusion.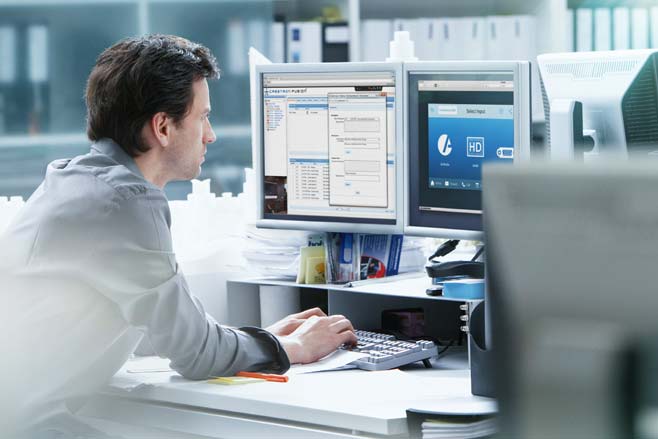 Our client, a global manufacturer, recently undertook a project to standardise technology in their UK IT Centre. The company spends over £300m on IT annually and were looking to create a 'centre of excellence' which could be showcased to the wider group as an example of how costs can be reduced and processes streamlined without losing key functionality.
Following a period of consultation and product evaluation, conferencing and room scheduling by Crestron was selected as the ideal solution. To compliment the in-room technology, Crestron Fusion resource monitoring would provide asset monitoring and a service wrap that would tie in perfectly with our client's objectives; giving them an accurate, real time picture of their estate.
Crestron Fusion provides meeting room management & scheduling
Working closely with the IT teams, Cinos integrated Crestron Fusion into existing infrastructure, significantly enhancing their asset management and reporting capabilities. Utilisation statistics, occupancy reports and system reports allow the onsite teams to react to short term issues and plan optimisation of work spaces. Constant room and equipment status updates provide relevant and current information, enabling support teams to operate proactively; significantly increasing uptime and meeting room availability.
Integration with Crestron room scheduling further streamlines meeting room management; ensuring that only meeting rooms that are fully functional are available to book. It offers a deeper insight into room use. Analytics can inform our client if, for example, a Skype for Business meeting room is used 50% more than a regular meeting space. This level of insight provides the foundation of reporting to the whole company; encouraging wider adoption.
If you are looking at resource monitoring and feel Crestron Fusion could be the solution for your organisation please get in touch using one of the contact methods on this page. To learn more about the project at our client's IT Centre please follow the links below.