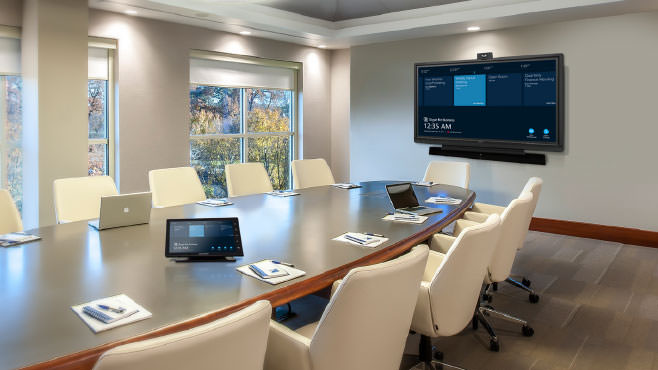 Skype for Business group conferencing & collaboration, integrated with your meeting room.
Today, Microsoft's Skype for Business (formerly Microsoft Lync) is extensively used across many workplaces. Employees regularly use it for ad hoc meetings, quickly connecting with peers and collaborating from the desktop. But what about meeting room integration? Wouldn't it be great to bring the functionality of Skype for Business into the meeting room for true group collaboration? Well with Crestron RL 2 you can.
Crestron RL 2 is an advanced group collaboration solution for conference rooms and huddle spaces. It brings the Skype for Business experience into the meeting room; allowing teams to connect and collaborate in real time, regardless of location. By combining the Crestron hardware with the Skype for Business software, Crestron RL 2 enables real time collaboration on the meeting room display, rather than on your laptop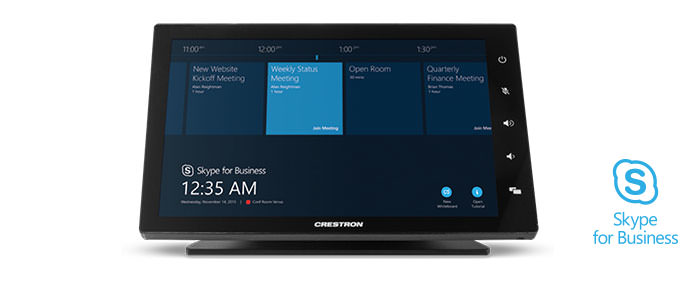 Simplicity sites at the core of the Crestron RL 2 solution. Anyone can walk in to a meeting room and instantly begin a session by touching one button on the RL 2 screen. Invite remote users in who can connect via their mobile device or PC. Enjoy the ability to view, share and annotate over documents and use the room's touch display as an interactive whiteboard to work on ideas with your team.
If you are already using Crestron in your organisation, deploying RL 2 comes with some further monitoring and management advantages. Using Crestron Remote you can connect Crestron RL 2 directly in Crestron Fusion, allowing administrators to centrally manage and maintain the solution with the ability to remotely connect to the room system if there is an error during a meeting.
Furthermore, because Creston RL 2 integrates with the Crestron product portfolio, you have the ability to control local AV sources, heating, lighting and room scheduling all from the RL 2 touch panel.
Crestron RL features at a glance
For a more detailed look at the Crestron RL 2 features please view our pages for:
Crestron RL 2 in huddle rooms and Crestron RL 2 in meeting rooms.
Crestron RL 2 packages and pricing
As an Authorised Crestron Partner, Cinos are perfectly placed to deliver the Crestron RL 2 solution into your organisation.
RL 2 is either delivered as an integrator package; allowing for integration into your existing network and meeting rooms, or a further two packages designed to cater for huddle spaces and larger meeting rooms. For more information on these packages please visit the links below. Alternatively get in touch with our team using one of the contact methods on this page and we will be happy to discuss your requirements.
Product Description
Price

Crestron RL 2 CCS-UC-200 KIT

Crestron RL 2 Group Collaboration System for Skype for Business, Intergrator Kit

POA*

Crestron RL 2 CCS-UC-200-HUD KIT | Learn More

Crestron RL 2 Group Collaboration System for Skype for Business, Huddle Room (Display not included)

POA*

Crestron RL 2 CCS-UC-200-WMT KIT | Learn More

Crestron RL 2 Group Collaboration System for Skype for Business, Wall Mount, Single, No Display

POA*
*As a Crestron Authorised Partner, Cinos can offer the most attractive price points on Crestron products.