Meeting rooms today are typically used for a mixture of internal and external presentations and offer a place for teams to work on projects and solve problems. More often than not these meeting rooms will utilise some form of conferencing solution; allowing participants to connect with remote users and dispersed teams. With so many conferencing options available it is sometimes hard to identify the right solution for your business.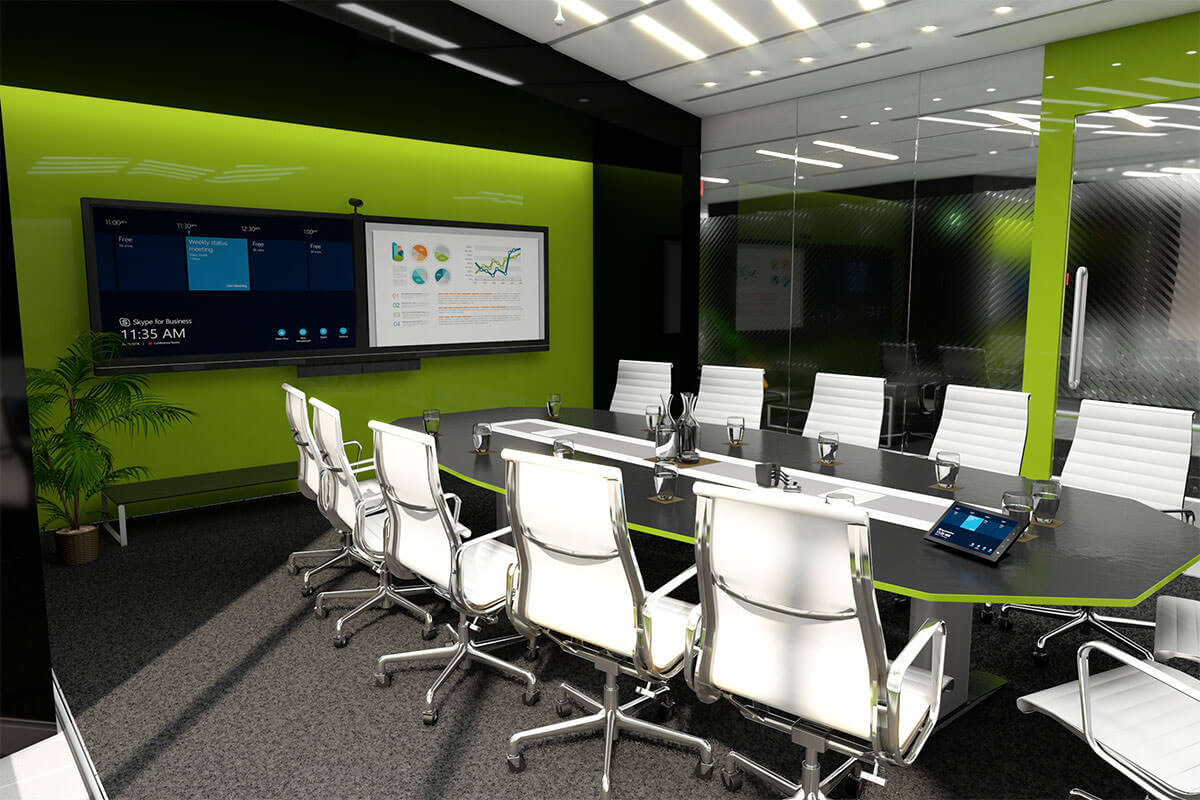 Crestron RL 2 meeting room & video conferencing solutions
This issue was faced by our client, a manufacturer with project teams and offices on almost every continent. Most of their existing meeting spaces did not have video conference capabilities and those that did utilised specialist, expensive conferencing systems and were generally reserved for use by executives. Whilst these dedicated systems offered an excellent experience, they did not cater for the wider group adoption. As most employees were already using Skype for Business on their laptop, tablet and smartphones, it was an obvious choice to create conferencing rooms that leveraged the investment already made in the Skype for Business infrastructure.
Our client's UK IT Centre was one of the first sites to adopt this corporate strategy. After evaluating various Skype for Business room systems, it was decided Crestron RL 2 would be the perfect fit and would enable the consolidation of technology vendors in their meeting spaces.
Nine Crestron RL 2 systems were installed in the IT Centre; six in the conferencing rooms and a further three in a Showcase area. Once installed, employees could enjoy the Skype for Business experience in the meeting room, courtesy of dual interactive Prowise displays. It also enabled teams to connect easily with remote users who, before, would have to travel into the office to attend meetings.
Our client wanted to implement an 'approach and use' methodology throughout the IT Centre and Crestron RL 2 certainly adheres to this. Anyone can walk into the meeting room and instantly begin a session with one touch of a button on the RL 2 interface.The meeting rooms automatically configure based on the connected presentation devices and the familiarity of the Skype interface makes user control quick and intuitive.
Collaboration with Skype for Business and Crestron RL 2
Anyone with a Skype for Business account can be bought into the session; whether that is via their laptop, tablet or smartphone or from another Skype for Business enabled room. For the more collaborative sessions, presenters can use the Prowise displays as an interactive whiteboard for annotating over documents and sketching ideas out with the team.
The Crestron RL 2 system has helped in connecting the wider group, resulting in less travelling, increased productivity and a better work-life balance. To learn more about this project please follow the links below. Alternatively, if you are looking at a Skype for Business room system and want to know more about Crestron RL 2, please use one of the contact methods on this page and our team will be happy to help.
Crestron RL 2 Case Study
Learn how Cinos deployed the Crestron technology suite, including Crestron RL 2, to reduce costs and enhance operations for a global organisation.
Associated Technology