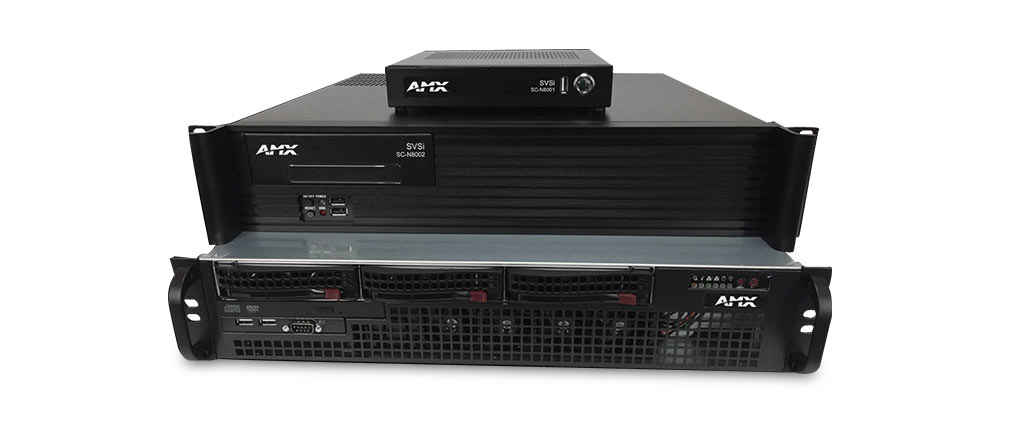 Control any device, anywhere, anytime
Having an extensive video over IP system across your organisation comes with a range of benefits. Video over IP encoders and decoders eliminate the need for specialist cabling; saving you money and allowing you to realise a quicker return on investment. However, as your video over IP estate grows, the need for a central control system is paramount.
To ensure this is possible, the AMX SVSI product family includes a range of control options which allow you to get the most out of your digital media system. Whether you are managing video advertising in public spaces, controlling student PCs in the classroom or monitoring multiple CCTV feeds, the N-Series products enable you to control your SVSI estate with ease.
SVSI N-Series Control Systems
The SVSI N-Series control systems consist of three products, each designed to provide you with intuitive and powerful management of your video over IP estate. Each controller offers IP equipment configuration, content management, bandwidth utilisation and matrix switching. Furthermore, all controllers communicate using TCP/IP; negating the need for any specialist cabling and allowing the placement of the controller in a location that suites your requirement.
From the control web interface administrators can view a graphical presentation of their video network. Within this portal, administrators have the ability to control and configure each SVSI component, from assigning fixed IP addresses to adjusting the variable bit-rate for each video stream. Administrators can easily switch any display from one video stream to another and, in emergency situations, informative messaging can be instantly shown on all displays across the SVSI network.
Offers AV switching for 5 simultaneous users and up to 50 devices. Key features include web-based control, custom script integration, group management and the ability to manage multiple video streams on a single Ethernet connection.
Offers AV switching for unlimited users and unlimited devices. Multi-user web-based graphical interface allows simple and intuitive control of source distribution and switching. Tasks can be scheduled, edited, deleted or executed immediately for content display.