DM NVX Cards – Ideal for extensive AV networks
Amongst the many features that set DM NVX apart from other networked AV solutions, the option to use encoder and decoder cards rather than boxes provides a viable alternative for the more extensive AV network requirements.
Rather than mounting a device behind the source, up to 8 cards can be housed in the DMF-CI-8 – a DigitalMedia card chassis. Each card slot is field-installable for easy and flexible system configuration, with the ability to modify the system as needs change. The chassis also serves as a power supply and consolidation point for rack mounting locations.
The DM NVX card option is ideal for scenarios where there are a large number of devices in a single area such as command and control environments. Rather than mounting a DM NVX box behind each input and output, the card chassis can be placed in the room and the DM NVX cards slotted in. Not only does this save space and make the room tidier, it enables easy access for IT staff should the set-up need to be changed.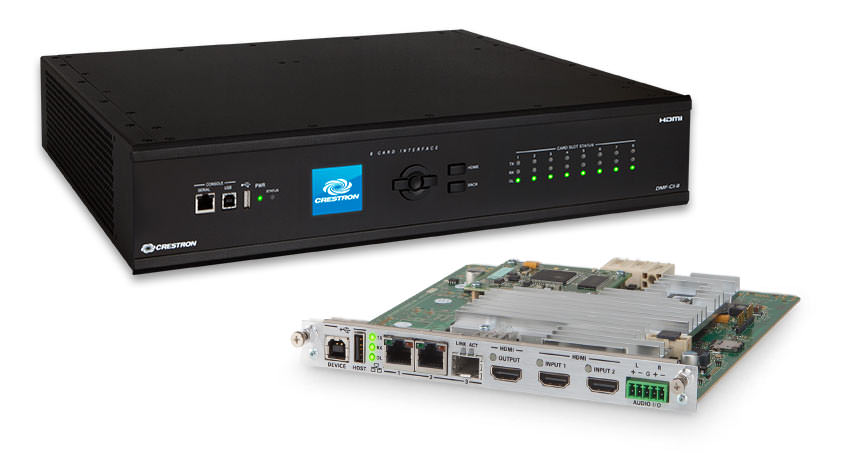 Crestron DM NVX Cards & Chassis
Like with the boxes, the DM NVX cards can function as an encoder or decoder. These cards install in one slot in a DMF-CI-8 card chassis, providing a scalable, high-density solution for applications requiring multiple encoders and decoders in one equipment rack. Please see below for more information on the cards and chassis. If you are unsure on the best option for you, please contact our team who would be happy to help.
| | DM-NVX-350C | DM-NVX-351C | DMF-CI-8 Card Chassis |
| --- | --- | --- | --- |
| Description | DigitalMedia 4K60 4:4:4 HDR Network AV Encoder/Decoder Card | DigitalMedia 4K60 4:4:4 HDR Network AV Encoder/Decoder Card w/Downmixing | DigitalMedia Card Chassis for DM-NVX-C & DMCF, 8 Slots |
| Overview | The DM-NVX-350C is a high performance, real-time AV encoder or decoder card that that transports 4K60 4:4:4 video over standard Gigabit Ethernet. Support for HDR video and HDCP 2.2 ensures the best possible picture quality and compatibility for all of today's varied media sources. Furthermore, the card offers USB and KVM integration and support for copper and fibre LAN connectivity. The DM-NVX-350C installs in a rack-mountable card frame; designed for high-density network AV applications. | The DM-NVX-351C includes all the features of the DM-NVX-350C with the addition of surround sound to stereo downmixing. This enables it to decode the incoming multichannel surround sound signal, whether from the network or an HDMI input, and downmix that signal to stereo. As an encoder, the DM-NVX-351C distributes both stereo and multichannel signals simultaneously over the network, allowing either signal to be selected at any decoder on the network. | The DMF-CI-8 provides a 2-space rack-mounted solution for extending multiple 4K video signals over Gigabit Ethernet and/or fibre optic cable. It is designed to house up to 8 Crestron DM-NVX-C or DMCF series cards which can be installed in any slot. Amongst its key features, the DMF-CI-8 offers a front panel 2-inch colour LCD display and status indicators and a variable-speed fan cooling system. |
| Price | POA* | POA* | POA* |
*As a Crestron Elite Partner, Cinos can offer the most attractive price points on Crestron products.