DM NVX – All in one encoder and decoder devices
Most networked AV solutions use separate encoders and decoders to transmit video across the network. Crestron have taken this a step further with DM NVX. In a single, compact device the DM NVX units can function as either a network AV encoder or decoder.
As an encoder, it allows media sources such as laptops and cameras to be connected via HDMI and then transmitted across the network.

In decoder mode, the unit receives the signal from the encoder and transmits it to the display via the HDMI output.
The ability to switch the encoder/decoder mode on the fly, via a Crestron control system or the XiO Director sets DM NVX apart from other video over IP solutions.
In training or classroom environments it is often the case that the teacher or trainer will present to multiple PCs in the room. For another participant to share their content with the group, most network AV solutions would require a time-consuming hardware change. Not with DM NVX. The participant's device can be switched from a decoder to an encoder quickly and easily; ensuring they can share their content without disrupting the session.
This key feature delivers a greater level of versatility to your AV network; offering a cost-effective presentation system using one integrated device.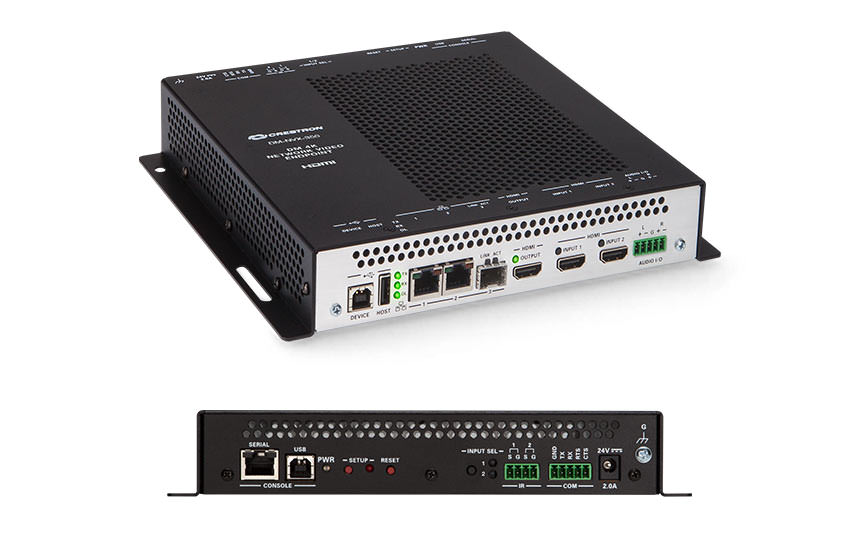 Crestron DM NVX Encoder and Decoder Products
| | DM-NVX-350 | DM-NVX-351 | DM-NVX-352 |
| --- | --- | --- | --- |
| Description | DigitalMedia 4K60 4:4:4 HDR Network AV Encoder/Decoder | DigitalMedia 4K60 4:4:4 HDR Network AV Encoder/Decoder w/Downmixing | DigitalMedia 4K60 4:4:4 HDR Network AV Encoder/Decoder w/Downmixing and Dante Integration |
| Overview | This compact video encoder and decoder transports 4K60 4:4:4 video over standard Gigabit Ethernet. The unit can be controlled from a Crestron control system or using the XiO Director; allowing users to switch between encoder and decoder mode. It offers USB and KVM integration and support for copper and fibre LAN connectivity and supports HDR10 and HDCP 2.2. The DM NVX-350 is fully scalable and offers a one-stop solution for enterprise-wide 4K content distribution. | The DM-NVX-351 includes all the features of the DM-NVX-350 with the addition of surround sound to stereo downmixing. This enables it to decode the incoming multichannel surround sound signal, whether from the network or an HDMI input, and downmix that signal to stereo. As an encoder, the DM-NVX-351 distributes both stereo and multichannel signals simultaneously over the network, allowing either signal to be selected at any decoder on the network. | To further enhance the DM NVX offering, Crestron have released the DM-NVX-352. This encoder/decoder solution offers all of the features of its predecessors but also brings Dante integration to DM NVX. As a result, organisations can take audio from their source and place on a Dante network. Once mixed with a DSP, the audio can be sent back to the DM-NVX-352 and be used in any presentation space. If you would like to know more information about the DM-NVX-352 please get in touch with our team who would be happy to help. |
| Price | POA* | POA* | POA* |
*As a Crestron Elite Partner, Cinos can offer the most attractive price points on Crestron products.
DM-NVX-350 & DM-NVX-351 Key Features
Analogue audio port configurable as a balanced stereo input or output

Simultaneous distribution of stereo and surround sound signals*

CEC device control gateway

<