Virtual DM Switcher for the DM NVX Series
As standard, the DM NVX series products can be configured and setup online using a computer browser. Typically, this application is fine for small scale AV networks that are unlikely to change over time. However, for the more extensive AV networks or for those where the configurations are likely to evolve, the Crestron DM NVX Director is the best investment you will make.
The DM NVX Director is a network AV management appliance that brings the DM NVX series to life; delivering on the promise of unlimited AV network flexibility and scalability. With the DM NVX Director you can remotely monitor your entire DM NVX system and configure it for real time applications, all from a central location.
Emulating the functionality of a traditional hardware-based DM matrix switcher, the DM NVX Director can route 4K60 streaming AV signals throughout a room, building or campus. Multiple units can be deployed to easily handle even the largest application; whether that is for corporate enterprises, government, medical or military institutions, or sports, entertainment and retail venues.
The DM NVX Director effectively eliminates the need for physical switchers in every room, replacing them with the virtual equivalent running on the AV network.
Simple, flexible configuration for your AV network
The DM NVX Director serves as a central virtual switcher and makes it unbelievably simple to manage large matrices of DM NVX endpoints. Configuring your network simple and fast. The DM NVX Director automatically detects each DM NVX endpoint on the network and allows you to assign a user-friendly name to it. Domains can be set up to manage groups of endpoints that operate together in a single switching setup; allowing individual rooms and other subsystems to be arranged and controlled independently.
Everything you need to configure and manage your network can be accessed via the simple-to-use, web-based user interface. See your network at a glance from the system overview screen or use the search box to locate any encoder or decoder. DM NVX Director enables you to immediately see any issues; such as an encoder dropping off the network or displays showing the wrong resolution. Firmware updates can be delivered remotely and administrators can switch the encoder/decoder mode for any product, on the fly, as requirements change.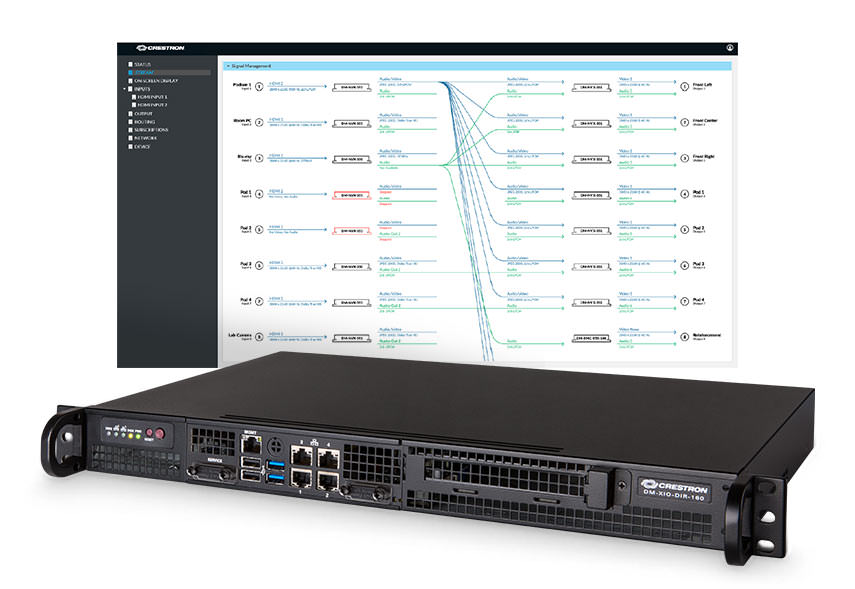 Crestron DM NVX Director Models
needs to hide
DM-XIO-DIR-80
DM-XIO-DIR-160
DM-XIO-DIR-ENT
Description
DigitalMedia™ XiO Director – Virtual Switching Appliance for 80 Endpoints
DigitalMedia™ XiO Director – Virtual Switching Appliance for 160 Endpoints
DigitalMedia™ XiO Director – Virtual Switching Appliance, Enterprise Version
At a glance

Supports 80 endpoints in a single domain

Supports 160 endpoints in a single domain

Enables grouping of endpoints in up to 20 independent subsystems

Supports 1000 endpoints and 240 domains

Six Gigabit Ethernet RJ45 LAN ports

Fibre optic connectivity via optional SFP or SFP+ transceivers

Enables grouping of endpoints in up to 240 independent subsystems

Six 1/10 Gigabit Ethernet SFP+ LAN ports

Onboard 100-240V hot-swappable redundant power supplies

Price
POA
POA
POA
Downloads
DM-XIO-DIR-80 Datasheet
DM-XIO-DIR-160 Datasheet
DM-XIO-DIR-ENT Datasheet
*As a Crestron Elite Partner, Cinos can offer the most attractive price points on Crestron products.
Crestron DM NVX Director Key Features
Emulates a traditional hardware-based matrix switcher

XML device map file import/export

Works with Crestron DM NVX encoders and decoders
Ethernet control system interface

Four Gigabit Ethernet LAN ports

Automatic endpoint device discovery

Universal 100-240V internal power supply
Custom naming and search tools

Comprehensive network AV system configuration, management, and signal routing

Easy diagnostics and signal status display

Fully-programmable control of the virtual matrix and physical endpoints
Crestron Case Studies
Introduction
rg+p formed in 1979 […]
Introduction As a leading manufacturer with […]