Create a Powerful, Flexible Telepresence System
The Cisco SX20 Quick Set is a flexible solution that helps you easily turn any flat panel display into a powerful telepresence system. The SX20 Quick Set delivers high-definition video quality, multiparty conferencing, and three different camera options to accommodate room configurations.
The SX20 Quick Set provides the performance expected of more expensive systems in a sleek, compact, multi-featured package. This solution is ideal for small businesses just starting out with telepresence, or large enterprises looking to broaden the benefits of telepresence throughout their organisation.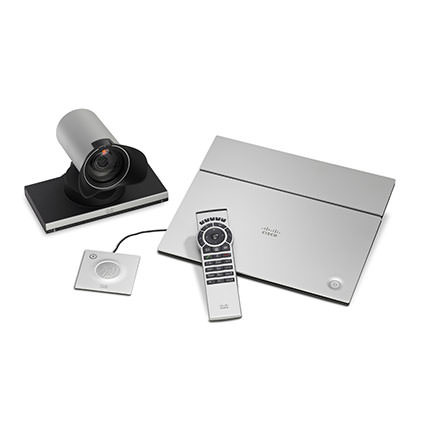 *Includes 4x zoom camera and remote. Other bundle options are available and can be discussed upon enquiry. Price includes UK delivery. Price excludes VAT.
As a Premier Certified Partner, Cinos are perfectly placed to deliver Cisco solutions into your organisation. To earn this status, Cinos has to meet standards for networking competency, service, support and customer satisfaction set forth by Cisco.
Through demonstrating a high level of technical expertise for Cisco products we are able to identify the best solution for your needs; taking into account your budget and maintenance requirements.
Cisco TelePresence SX20 Specifications
Key Features of the TelePresence SX20
Transforms a flat panel display into a 1080p high-definition meeting space
Intuitive connections make setup as easy as connecting a DVD player
Provides up to 1080p60 resolution – compatible with standards-based video without loss of features
Sleek, compact design
Multimedia and presentations can be shared at the touch of a button
Supports Cisco Intelligent Proximity for content sharing to mobile devices and wireless sharing from Macs and PCs
Supports Switched Conferencing (SVC) for enhanced layouts and enabling video on both screens of dual screen endpoints
Easily control room peripherals such as lights, room dividers and curtains directly from the Cisco TelePresence Touch 10 (optional) through customizable API2 (requires external third-party control system processor)
Basic API available over IP (Telnet or Secure Shell Protocol [SSH]) or over RS-232 with USB adapter
Dual-display
High-definition content sharing up to 1080p30 resolution
One button to push (OBTP) to start a meeting
Premium resolution (1080p60)
H.323/SIP calls up to 6 Mbps
Built-in individually transcoded multipoint conferencing (optional) offers ability to add three additional participants
Easy provisioning and self-configuration with Cisco Unified Communications Manager (CUCM), Cisco TelePresence Video Communications Server (VCS), or Cisco WebEx TelePresence
Takes advantage of the Cisco TelePresence Total Solution approach, including Cisco TelePresence ad-hoc conferencing features, recording and streaming, and firewall traversal services
Cisco Unified Communications Manager native support (requires Cisco Unified Communications Manager Version 8.6 or higher)