Build the Video Collaboration Room of Your Dreams
The Cisco TelePresence SX80 Codec provides a powerful and flexible platform for creating the ultimate video collaboration experience. This feature-rich codec delivers high-definition video and high-fidelity audio into large meeting rooms, boardrooms, and purpose built application rooms.
The SX80 delivers up to 1080p60 end-to-end, high-definition video and supports several sophisticated camera features to enable intelligent viewing capabilities within a video conference. It's the first in the industry to offer support for H.265, which lays the foundation for future bandwidth efficiencies made possible by the new standard.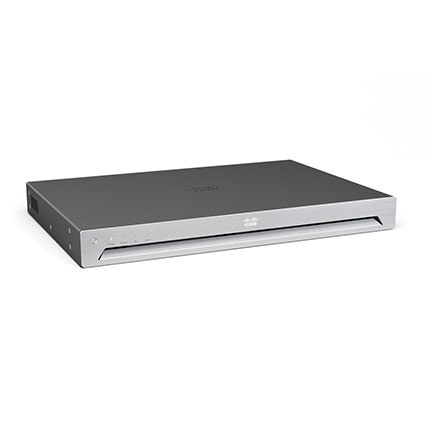 *Includes 4x zoom camera and remote. Other bundle options are available and can be discussed upon enquiry. Price includes UK delivery. Price excludes VAT.
As a Premier Certified Partner, Cinos are perfectly placed to deliver Cisco solutions into your organisation. To earn this status, Cinos has to meet standards for networking competency, service, support and customer satisfaction set forth by Cisco.
Through demonstrating a high level of technical expertise for Cisco products we are able to identify the best solution for your needs; taking into account your budget and maintenance requirements.
Specifications at a Glance
One of the most powerful and feature-rich codecs available with the ultimate in video and audio quality
The next generation HD video collaboration codec
1 rack unit (1RU) high, rack-mountable, with rack-mounting solution included
Professional-grade connectors
Unmatched quality and flexibility
Standards-compliant 1080p solution – compatible with standards-based video without losing features
Supports Cisco Intelligent Proximity for content sharing to mobile devices and wireless sharing from Macs and PCs
Supports Switched Conferencing (SVC) for enhanced layouts and enabling video on both screens of dual screen endpoints
Easily control room peripherals such as lights, room dividers, curtains, directly from the Cisco TelePresence Touch 10 through customizable API1 (requires external third-party control system processor)
1080p30 HD embedded Cisco TelePresence MultiSite with individual transcoding
Collaborate with four simultaneous video inputs
HD collaboration with 1080p60 video and 1080p30 content
One button to push (OBTP) to start a meeting
Limitless integration possibilities
Ideal for team-based collaboration, boardrooms, meeting rooms, and industry applications
Optimal definition up to 1080p60
H.323/SIP up to 10 Mbps point-to-point
Up to 10 Mbps total MultiSite bandwidth
Ability to connect up to four HD sources and 8 microphones directly to the codec
Full duplex audio with high-quality stereo sound
Full application programming interface (APIs)
Ability to take advantage of Cisco TelePresence Total Solution Management, transcoded HD MultiSite, recording and streaming and firewall traversal
Cisco TelePresence ClearPath packet loss protection technology for optimal experience
Cisco Unified Communications Manager native support (requires Cisco Unified Communications Manager version 8.6 or higher)