Crestron Mercury, tabletop video conferencing and meeting room collaboration solution.
Have you ever entered a meeting room and found that the technology isn't working, hard to use or doesn't work as expected? How many times has the start of a meeting been wasted with people trying to use the technology, requesting IT support or giving up all together? With Crestron Mercury, these problems are a thing of the past.
Crestron Mercury is more than just a conference phone. This all-in-one, table-top collaboration device delivers audio and video conferencing, BYOD multimedia presentation and web collaboration. Ideal for small meeting room and huddle spaces, Mercury is the only room solution that supports any video conferencing service.
Adding Crestron Mercury to your meeting rooms or wider estate is quick, easy and affordable. Cloud-based management enables complete network configuration before the units arrive. In addition, Mercury provides room usage data; further protecting your investment and improving the utilisation of your meeting spaces.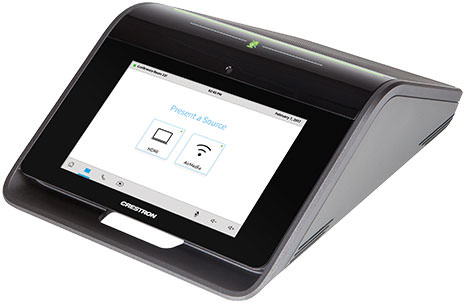 Crestron Mercury Models
To accommodate different applications and budgets, Crestron have provided two versions of Mercury. For more information on these models please see the table below or contact our team who would be happy to discuss your requirements.
| | CCS-UC-1 W/PS KIT | CCS-UC-1-AV W/PS KIT |
| --- | --- | --- |
| Base unit with speakerphone & audio conferencing capabilities via SIP, Bluetooth, & USB | | |
| Web video conferencing capabilities via USB & HDMI | | |
| Video presentation capabilities via AirMedia & HDMI | | |
| HD Camera | | |
| USB extension cable for camera, Type A male-to-female | | |
| USB cable for laptop computer, Type A male to micro-B male | | |
| HDMI cable for presentation content source, Type A male-to-male | | |
| HDMI cable for display device, Type A male-to-male | | |
| Ethernet LAN cable, RJ45 male-to-male | | |
| IR emitter for display device | | |
| Cable retention plate & tie wraps | | |
| Universal power pack | ** | ** |
| Price | POA | POA |
*As a Crestron Elite Partner, Cinos can offer the most attractive price points on Crestron products.
**When used without any microphone pods connected, the system may be powered using either PoE+ or the included power pack (model PW-2420RU). If one or two mic pods are connected, the system MUST be powered using the power pack. PoE+ cannot be used to power the system if any mic pods are connected. When using PoE+, make sure the network switch supports PoE+ (802.3at Type 2). Regular PoE (802.3af or 802.3at Type 1) cannot be used to power the system. Crestron recommends using the CEN-SWPOE-16 16-port switch, which supports PoE+. Please be aware, the CEN-SW-POE-5 5-port switch does NOT support PoE+ and cannot be used to power the system.
Crestron Case Studies
Introduction
rg+p formed in 1979 […]
Introduction As a leading manufacturer with […] <