Crestron RL 2 is now end of life. For Microsoft Teams and Skype for Business room systems please see our Crestron Flex page.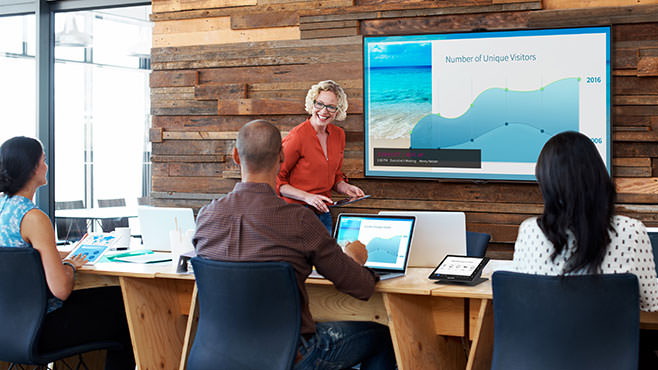 Skype for Business integration. Bring true group collaboration to your huddle spaces.
Huddle spaces are frequently used for impromptu, ad-hoc meetings. Whilst teams can be large and widespread, certain divisions come together more often to focus on a specific project deliverable. In these situations, huddle spaces lend themselves to small group collaboration, but the ability to collaborate well often depends on the available technology.
There are some key capabilities which can enhance huddle spaces into a truly collaborative working area. Content sharing, whiteboarding, and the ability to connect to the wider team via message or video enables teams to work faster, smarter and with more precision. Without the right technology, meetings can become longwinded and unproductive.
The Crestron RL 2 huddle room system package (CCS-UC-200-HUD-0 KIT) delivers the right technology to the huddle space; significantly enhancing the collaborative process. Rather than huddling around your colleague's laptop, Crestron RL 2 brings true Skype for Business group collaboration to your huddle spaces. Enjoy connecting with remote team members, share and annotate on content and use any touch panel HD display to sketch out ideas with your team. And, if you are already using Skype for Business in your organisation, there are no additional licences or fees required.
As a Crestron Certified Partner, Cinos are perfectly placed to deliver the RL 2 huddle room system package into your organisation. For more information about the CCS-UC-200-HUD-0 KIT please see the features below, or alternatively get in touch with our team who would be happy to help.
Crestron RL 2 CCS-UC-200-HUD-0 KIT Features
HD Display
Crestron RL 2 is compatible with a variety of high-definition touch screen displays. USB HID touch overlay support enables annotation and other interactive presentation capabilities right on the main display.
Tabletop Touch Screen Console
The included 10" touch screen console provides an intuitive user interface for managing group collaboration sessions. It's so simple to use, anyone can instantly start a session with just one touch. The touch screen console can also be custom programmed to control room lighting, shades, climate, and AV equipment.
USB HD Camera
The included camera provides remote participants with a high-definition view of the room through an extra-wide 90 degree diagonal field of view. Crestron RL 2 is also compatible with a range of Crestron and Crestron-approved third-party camera options.
360° Speakerphone
The CCS-UC-200-HUD package comes with an integrated 360 degree tabletop USB microphone and speaker that's capable of achieving excellent cov