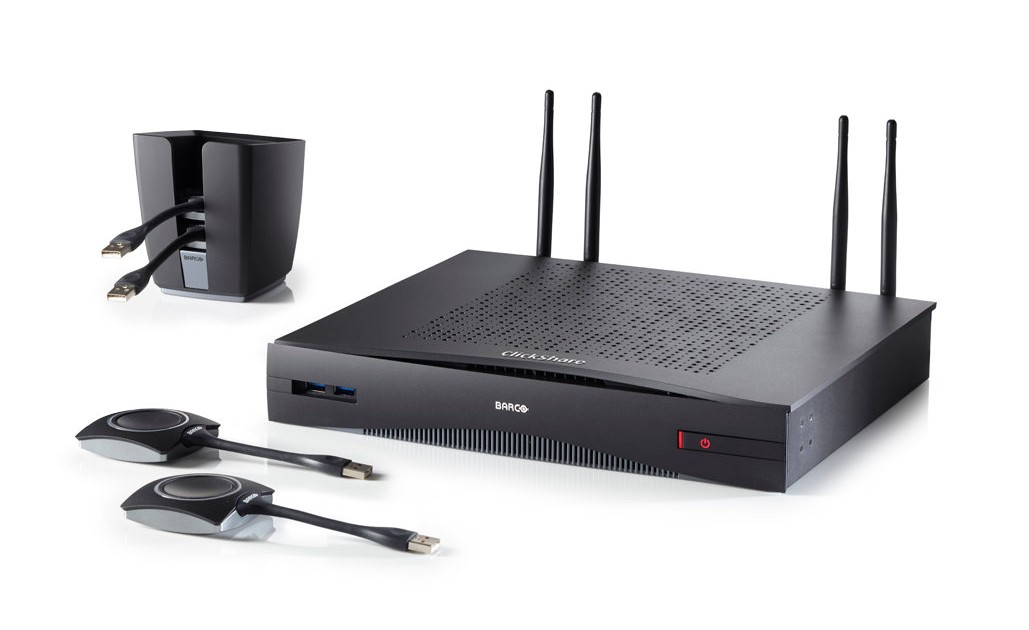 CSE-800 – Wireless presentation and collaboration system for boardrooms and conference rooms
Designed to bring wireless presentation into boardrooms, high-end meeting rooms and conference rooms, the CSE-800 is the most powerful system in the ClickShare family today.
The CSE-800 comes with some exciting new features including the simultaneous sharing of up to 8 people, moderation functionality and black boarding & annotation. Furthermore, with two HDMI inputs and outputs you can enjoy 4K quality presentations on 2 screens, driven by a single base unit.
ClickShare CSE-800 replaces the ClickShare CSC-1
Barco have discontinued the ClickShare CSC-1, replacing it with the ClickShare CSE-800. So, if you are looking at an enterprise-grade ClickShare solution, the CSE-800 has you covered. With new features such as dual 4K viewing and up to 8 people simultaneously sharing on screen, the CSE-800 is now the flagship ClickShare solution.
Barco ClickShare CS-100
Idea for small meeting and huddle rooms.
1 user on-screen
HDMI output
Barco ClickShare CSE-200
For small and medium-sized meeting rooms
Enhanced security features
Central management
Barco ClickShare CSE-800
Simultaneous sharing of up to 8 people
Dual 4K viewing
Enterprise grade security
Collaboration Made Easy
ClickShare gets all meeting participants actively engaged by giving everyone the opportunity to be on screen. This enhances collaboration, and leads to better and faster decision-making. With ClickShare your meetings will never be the same again!